When it comes to communication with users, we frequently rely on the support team, forgetting other ways to reply to the requests and help customers. We do not use the collected information and do not analyze how customers behave on our websites or apps, and even how they use our products.
However, the development of business platforms won't leave this problem unsolved. Currently, there are multiple options, namely Customer Relationship Management software. Moreover, CRM is one of the fastest-growing markets that supports the importance of advanced and digitized communication in business processes.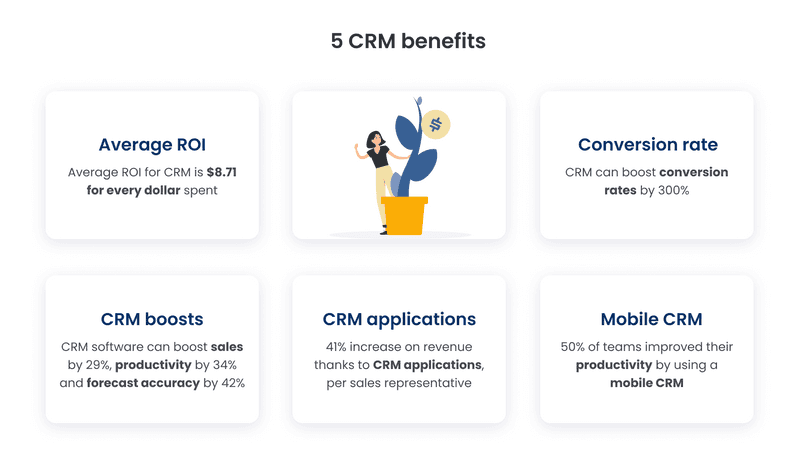 Source: Nimble
CRM is an effective business tool that allows you to efficiently manage interactions with your users and deliver the best customer relation services. Also, proper CRM design helps to keep all client data in one place and use this information to build effective communication.
It may seem that you don't need a CRM for your business, and you already communicate with your customers via Instagram or phone perfectly. Here are the top 5 reasons you need to use it now, or you can forget about growing:
A well-developed CRM dashboard design helps to keep information organized in one place and see the big picture of your business
It helps to effectively manage customer information (for example, you know the birthday of each client and can send an email birthday card to make them happy)
It helps to understand the income (and understand how you spend money)
It helps to build a sales strategy
It helps to define and use the proper metrics for your business
Now we know that CRM is a must. But how to choose a system that will solve the issues of your business and help to reach your goals? Of course, you may choose one of the popular solutions, like:
Hubspot
Pipedrive
Zoho
Insightly
Nutshell
But let's be honest: the best CRM system is the one that you've created for your needs. You can add functions that you need and upgrade a custom CRM in the way you like. 
So how to create the CRM for your business to be efficient and practical?  In this article, we will reveal all the secrets.
What is custom CRM system design, and why does a business need it?
Custom CRM is a customer relationship management solution developed for one single company.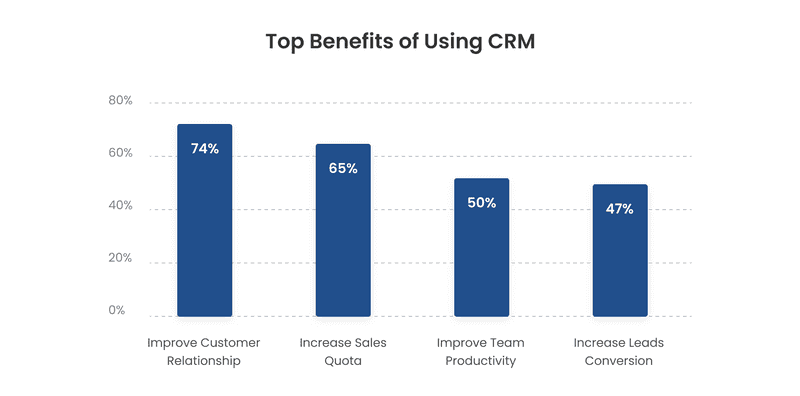 Many companies prefer custom CRM user interface design to ready-made CRM systems, among them are the big names like:
Coca Cola
Apple
Amazon
Tesco
However, small and medium businesses also choose custom solutions. Ali Moshfeghian, COO of Xtreme Lashes, says:
'We need a single cloud-based platform that can store all of our data, run the application for every part and provide value to our customers.'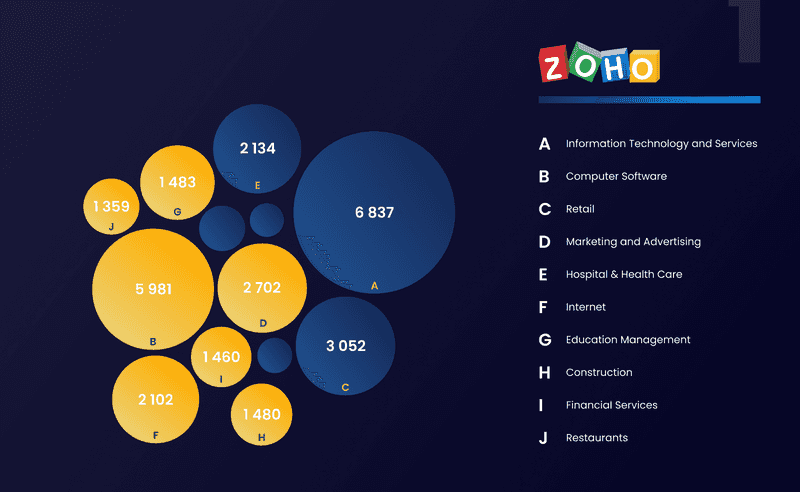 Source: Enlyft
Hubspot

Hubspot is more popular among Computer Software (11%), Information Technology and Services (7%) and Marketing and Advertising (6%) segments.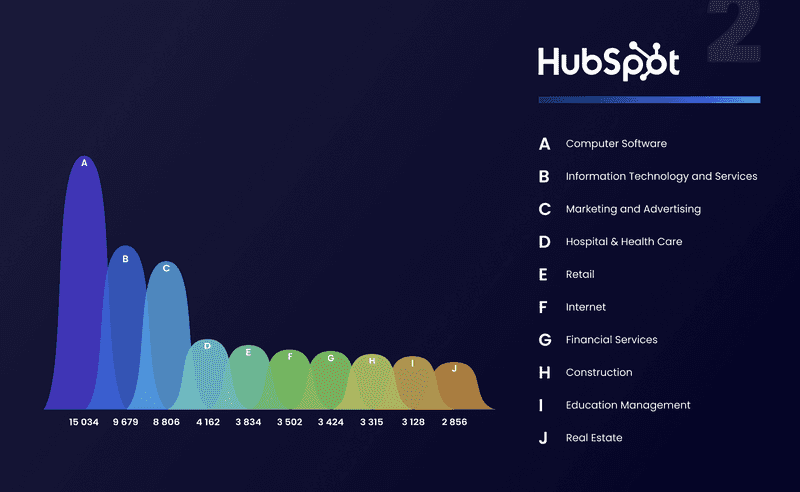 Source: Enlyft
Pipedrive

Pipedrive, in its turn, is more preferred by Computer Software (20%), Information Technology and Services (11%) and Marketing and Advertising (7%) industries.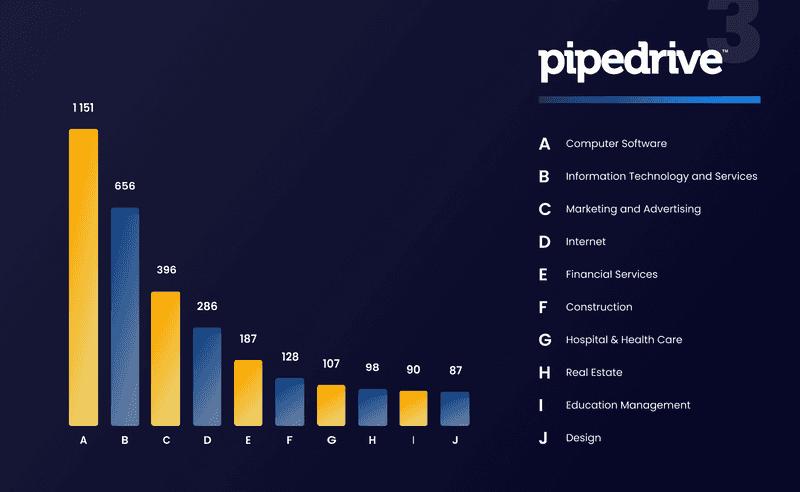 Source: Enlyft
Insightly

As you can see, the same industries use Insightly for their customer relationship management.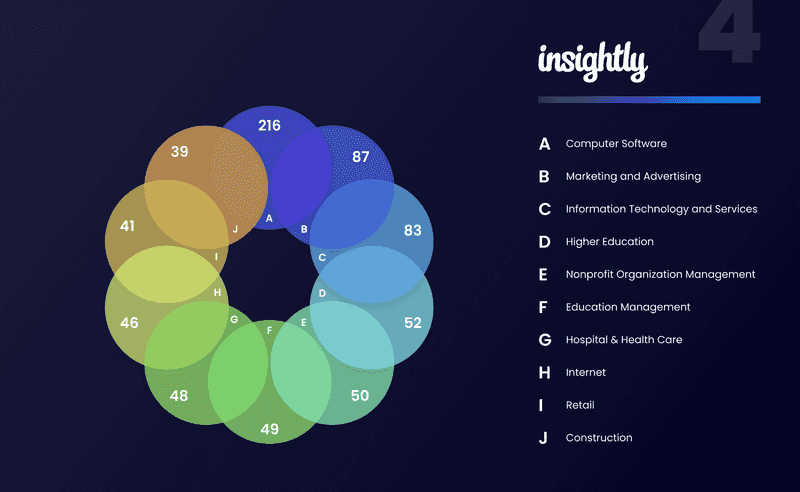 Source: Enlyft
Nutshell

Lastly, Nutshell results to be more convenient for Computer Software (20%) and Marketing and Advertising (6%) companies.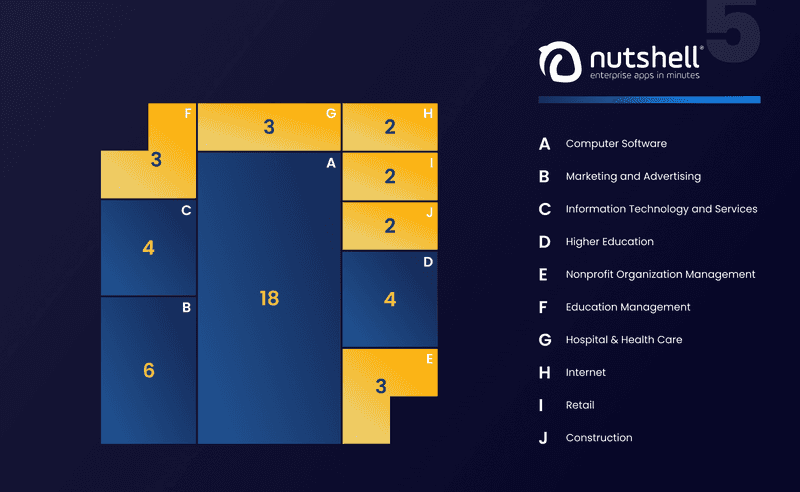 Source: Enlyft
What kind of CRM database design your product needs: a custom one or SaaS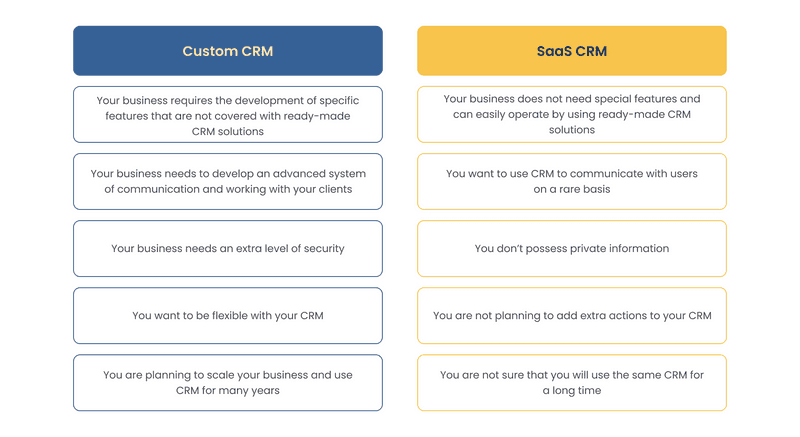 All in all, customer CRM is a great option for many small and medium businesses and a must for big businesses. However, at the early stage of business, SaaS will work great. But remember: when you decide to create your own CRM, you will need to transfer all information about your clients. So maybe it's better to start with developing a custom CRM?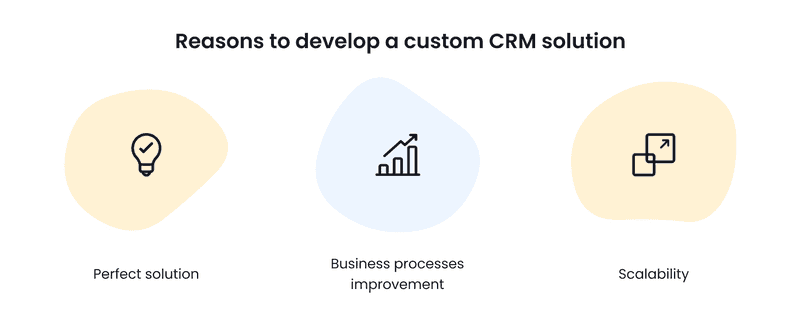 How to design CRM from scratch: a basic guide
CRM development takes time. It also takes effort and a strong desire to develop a software that will benefit the communication with your users. 
We've divided the whole process of creating the best CRM design into 7 steps, each equally important for the result.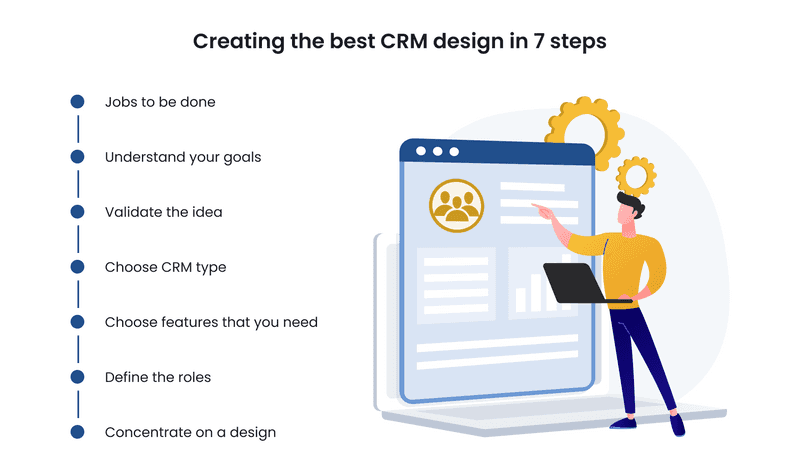 Jobs to be Done

First, start with the problems with customer relationships and communication that you already have. Perhaps, you may even have some solutions for it. Do they work effectively or do you need to fix something? 

By answering these questions, you will understand why you need a custom CRM website design and how you can use it in your business.

Understand your goals

What are your business goals? Do you want to attract new clients and nurture leads, or perhaps your main goal is to boost sales within your existing clients?

By defining goals,  will it be possible to move further with custom CRM UI design development.

Validate the idea

You will find thousands of CRM interface design examples. So before you start to develop a custom CRM, you need to make sure that it will be effective for your business. That's why the stage of validating the idea cannot be omitted.

Choose CRM type

Both custom and SaaS CRM systems can be of 4 types:

strategic (used to collect information and predict customer behavior);
operational (used to manage daily tasks within different departments that work with customers);
analytical (used to analyze data);
collaborative (used to collaborate external and internal teams).

However, if you choose a custom CRM, you can always make a mix of different CRM types and create the one that suits better for your business.

Choose features that you need

According to recent studies, the top 5 most requested features for CRM are:

Contact management;
Lead nurturing;
Email marketing;
Sales forecasting;
Customer services

This information will help you define what features your custom CRM should have to be effectively used by your company.

Of course, you need to rely on your business goals and first develop features to help you achieve them.

Define the roles

CRM systems are not operated automatically. Your employees will be involved in the processes, so you need to define who is responsible for what. For example:

You may need an analytics team to analyze the behavior of the customers and create hypotheses for better communication;
You may need a team of managers to work with contacts;
You may need a team of supervisors to issues the invoices.

If you have already defined company goals, it will be easier for you to understand the roles your business needs.

Concentrate on a design

An effective design is vital for a custom CRM. All the system features should be properly related and coherent. Any member of your team should understand why the information appears on certain pages and where to find the information they may need.
For example, the team of professionals will help you understand the processes you need to add into your CRM, and the metrics on how to track the KPI.
You could make the previous steps on your own, this one requires the help of experts. We at Axicube are ready to help you with the design of the most complicated CRM.
CRM design examples
For a custom CRM you cannot use a CRM design template. You need to develop the solutions that will solve your problems.
Check these CRM design inspiration examples to find some ideas for your own CRM.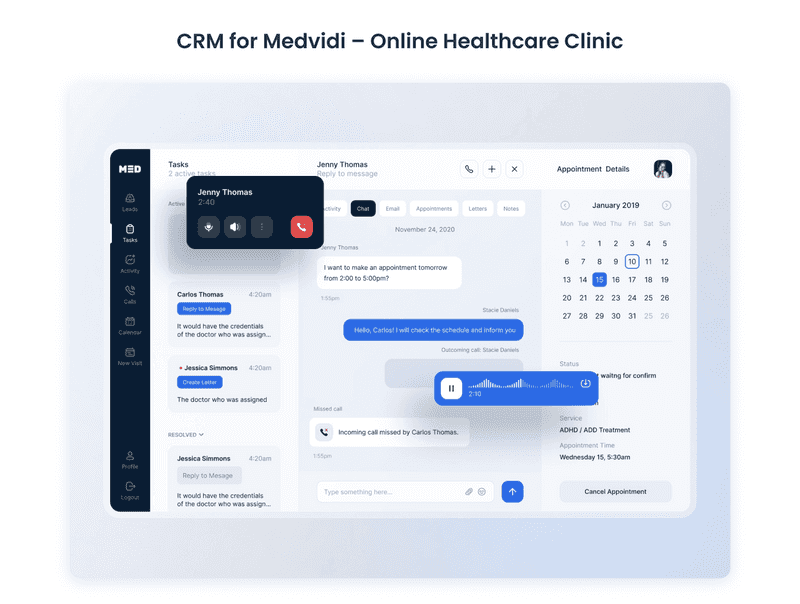 CRM for Medvidi – Online Healthcare Clinic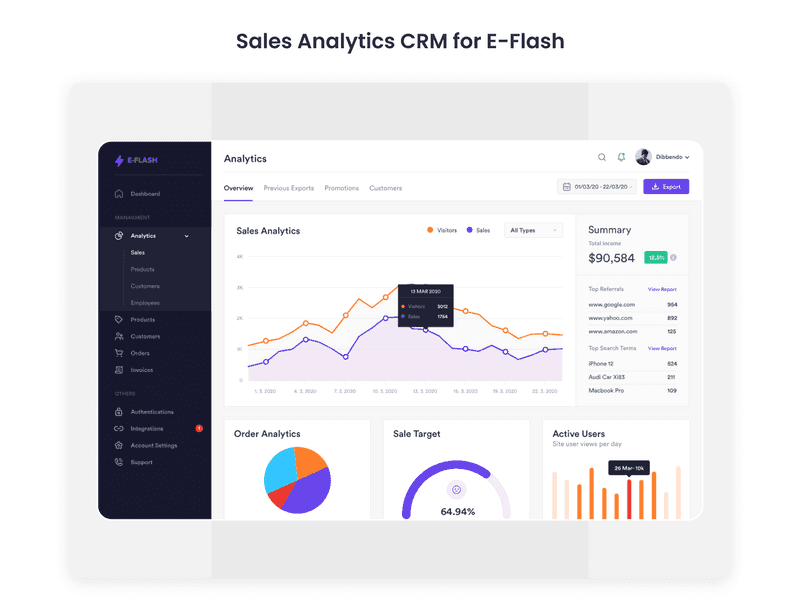 Sales Analytics CRM for E-Flas
5  key features of custom CRM
Whatever custom CRM you are planning to develop, you need to be sure it has the following features:
Create and track the customer life cycle to understand where exactly your client is right now and what to expect in the nearest future;
Create and track orders to be sure that the orders have been invoiced, shipped, etc.;
Manage team to know who's responsible for what;
Monitor KPI to be sure that your business keeps growing;
Integrate 3-rd party services to make the process of CRM usage less complicated for the team
These are the only basic 5 CRM features that you need for your business. To empower your CRM with the most effective solutions, read on in our second article.
read also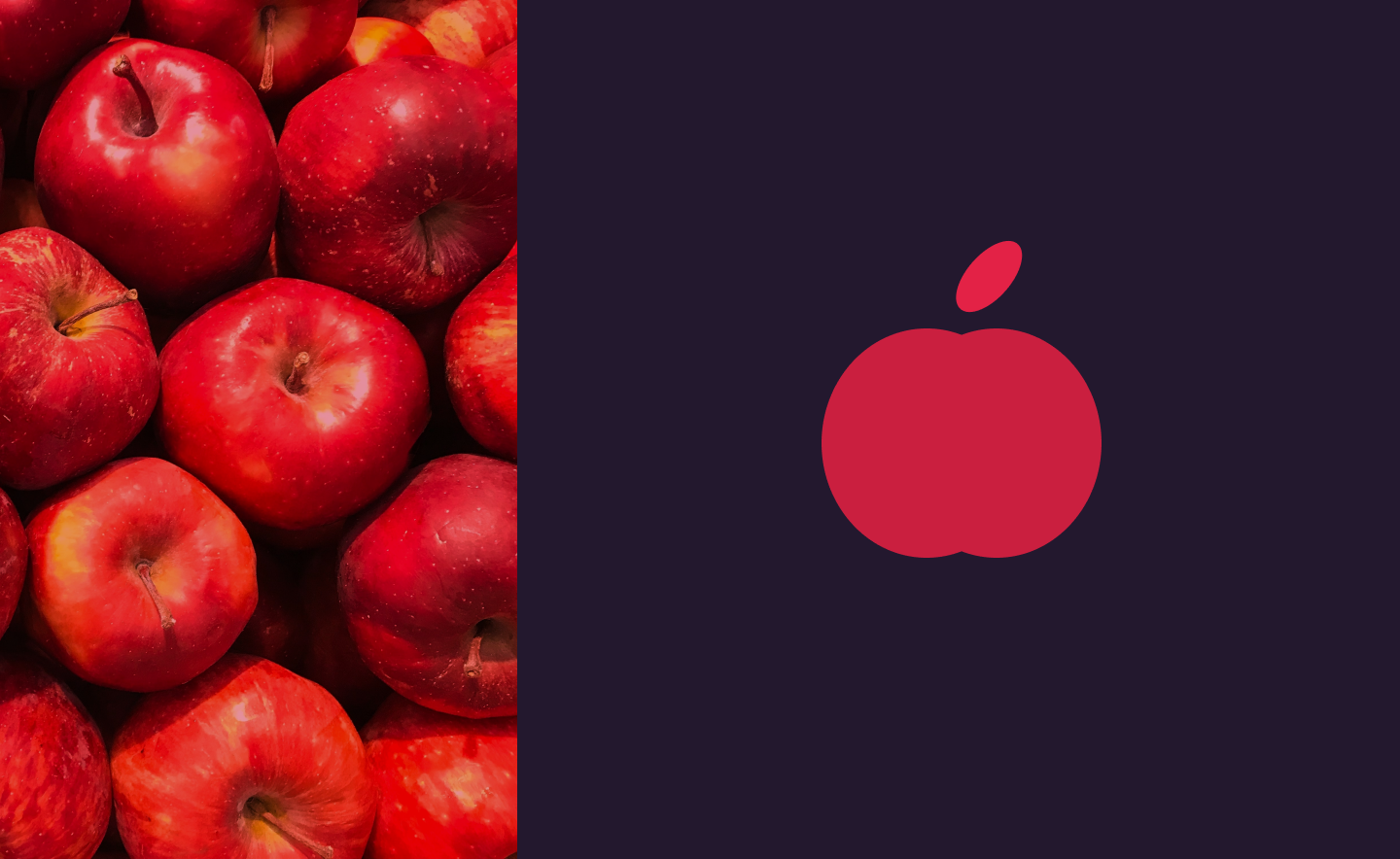 An Exhaustive List of CRM Features to Level Up Your Business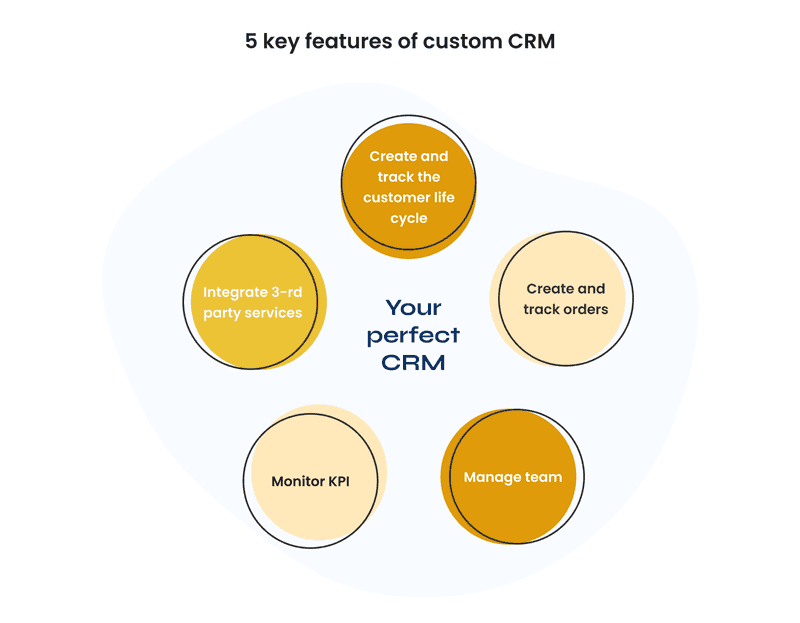 Axicube for BiMP: Custom CRM Web Design Case Study
For BiMP, we've developed a solution that covered the following aspects:
Integration with 3-rd party services to add ready-made solutions that can be of use for the business;
Customizable quotes to add the information that a business needs;
Improving the whole process of working with documents, leads and goods;
As a result, we helped BiMP to work with clients in the most customized way: create unique sales funnels, set unique KPI for each management, create custom reports and use information that they actually need - not the information the custom SaaS has.
Custom CRM design for your business. Ready to get it?
A custom CRM is always a great option for any kind of business. We'll be glad to help you with switching from 'one-size-fits-all' approach to a new, custom one.
Your business needs one-of-a-kind solutions, and we at Axicube are ready to support you. We've been working with different types of businesses on custom CRM solutions and helping them at any stage of development: from the analysis of the market and up to support during the development. In our work, we use best practices and our own experience that is worth a fortune! Call us any time you're ready for the big CRM changes for your company!