Do you have a business without a website? Or do you have a website but it is outdated and needs renovation? We understand that you may have objections like "I don't have time for this" or "This is too expensive a pleasure." But the reality is that if your business doesn't have a website, you're wasting both time and money. According to the study, 81% of consumers go online before visiting the store, up 20% from last year, and spend an average of 79 days gathering information online before making a significant purchase. 
"Every business needs a digital presence because buying behavior has changed," said Renee Bauer, lead content strategist at HELLO Marketing Agency. "People complete most of their research online before they reach out to a salesperson – if they do at all. If you're not there, or your website makes you look dated, people will go straight to your competitors." 
So, as you see, it doesn't matter what products or services you sell, the website for your business is an essential tool. Moreover, it is necessary to have an incredibly designed website to impress your customers and potential clients. According to statistics, 75% of consumers admit to making judgments on a company's credibility based on the company's website design. 
We think you will agree that it is not profitable for a business to lose customers who prefer to search for information online before making a purchase. "But how to design a corporate website?" you might ask. That's why we are here. So let's dive into this topic together!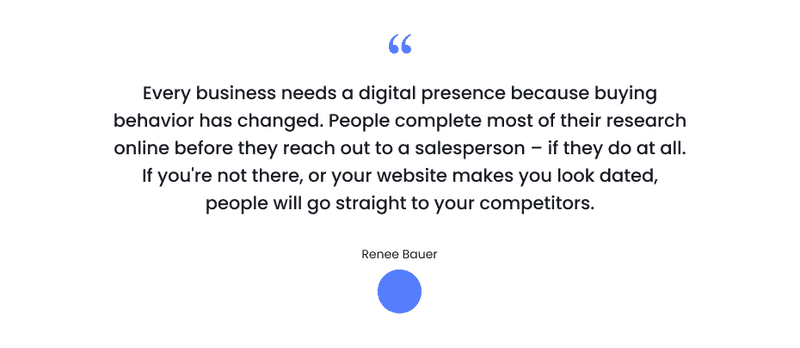 What is a Corporate Website
A corporate website is needed so that your potential customers can get acquainted with your products or services. It is like a face that represents your business on the Internet. Fill the site with different information about you and your business to increase customer confidence.
But increasing customer loyalty is not the only goal of the corporate website. These websites are needed to promote the company itself. With the help of such a website, you can attract investors and potential partners. The corporate website should fulfill 4 goals:
Representation

Your website should clearly show the purpose and values ​​of your business to the user. At first glance, it should be clear that your business is thriving.

Reputation

Your website should convincingly show your visitors the integrity and business ethics of your company.

Convenience

Website content should show that your company is a pleasure to do business with and that your company provides quality services or products.

Lead generation

With the help of a corporate website, you can also find new clients. Depending on your business type, your website can be a business card, or through this website, customers can contact you for services.
The business website concentrates on the company itself. It means that the corporate website does more than show how the company was created and what kind of employees work there. On the website, you can show what services or products you provide. You can showcase your expertise and the best case studies to showcase your business in all its glory. 
Depending on the type of sites (B2B / B2C), they have different goals. That is, websites are focused on other things. For B2C, the focus is on services, on what you do for whom. This website is needed to make sales.
If a large B2B website, for example, provides services for millions of dollars in the supply of a product, then the focus is on something else. Such a website works more as a business card for clients and as information for employees. These websites may show services separately for large businesses, distinctly for small ones, or individual services. But services do not sell through the B2B website.
So who exactly is the content on the corporate website targeting? 
Partners and investors

It won't be fascinating for these people to read about your brand. They are more interested in your financial and business achievements. Show statistics, statements, and operational reports. It will be appropriate on the corporate website, as well as attract potential investors and partners. Let your achievements and specific numbers speak for you.

Your employees

A team page on your corporate website will give your employees the feeling that they are part of the team. This page will also show that the company values ​​each employee and their contribution to the common cause. 

Potential hires

A corporate website is an excellent place to show what career opportunities your company can offer potential employees. In addition, you can place information about training for employees on your business website to show that you care about your staff.

Mass media

If the mass media wants to release news about your business, it is better to place the materials yourself on your corporate website. It will be better than if the mass media themselves seek information about you through other resources.

Competitors

Your website should show your company's scale, competitiveness, ambition, and value at a glance. Your competitors should immediately see with whom they are dealing. And your clients should also see that you are better than the others. If you manage to create a business website design that outshines them, it will be advantageous.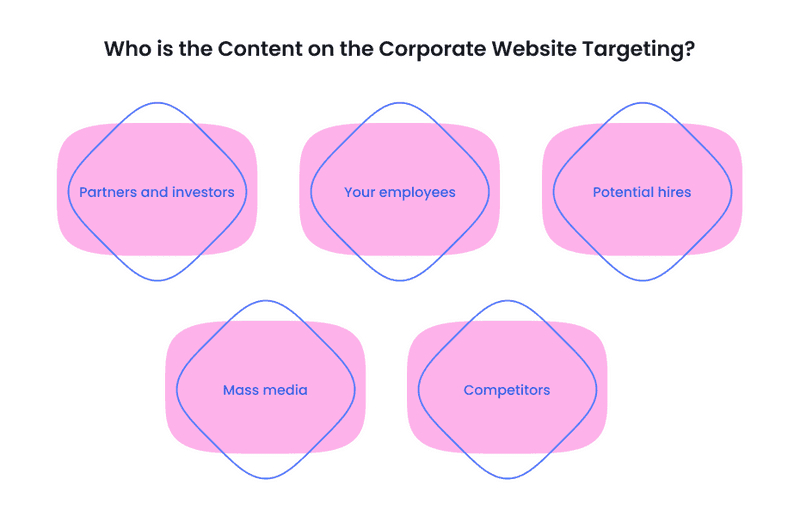 The above sounds reasonable and logical, but many companies still perceive the presence of a corporate website as a privilege. "Let it be just to be," they say. But since we have analyzed for whom the content is created on the corporate website, let's now examine why your company needs such a website. How does a website like this help your business?
Why Your Business Needs a Corporate Website?
A business's online presence has a significant impact on its success. Without a corporate website, it is difficult to be visible to users who look for information on everything on the Internet. According to statistics,  81% of small business owners say that a website has helped to grow their business.
The visitors of your website can be both potential investors and potential employees or clients. If you are still in doubt as to whether you need a website or not, we have put together a few arguments:
Showing professionalism

First of all, 84% of users agree that a website makes a business more credible. Therefore, it will certainly not interfere with the development of your business but will only strengthen its position. Secondly, a corporate website is excellent for posting various certifications and awards your company has received. Yet, with a corporate website, you will be able to create a branded email address, which will add presentability to your correspondence. According to statistics,  71% of users believe that a company-branded email makes mailing more credible.

Showcasing products

You can publish information about products or services you offer.  Use high-quality photos to show your product visually. It can attract not only clients but also potential investors and partners. Also, show that you are performing your services well.

Displaying your best reviews

Why not showcase the best reviews for your business to establish social proof? You need to show that your business is thriving and that the public notices it. For example, if there was an article about your business in a popular newspaper or blog, you could also put it on your website.

Establishing your place in the industry

Even if your competitors already have websites, you still have the opportunity to gain a foothold in your field. First, make a corporate website that is very different from your competitors' websites. You can achieve this by creating a modern corporate website design that will set you apart from the rest. Second, fulfill it with great content that will show your professionalism and your company's goals and values.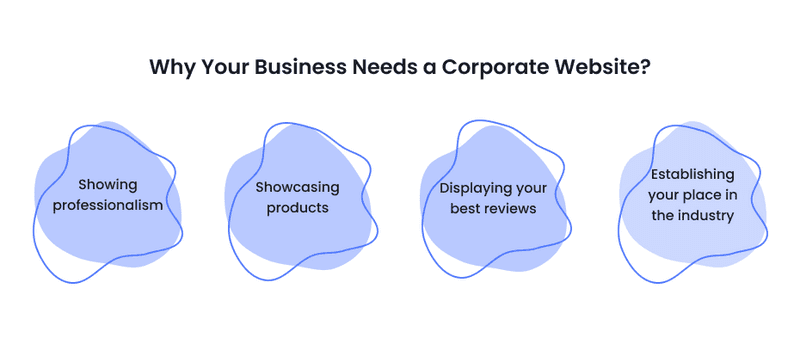 So, now we know what a corporate website is and why businesses need one. The next question that may appear in your head is "How to make it?". Let's take everything in order.
Template VS Custom Corporate Website Design: What to Choose?
Here we can start with an analogy to understand the difference between a template and a custom website. Consider a custom-made and production apartment. Both options cover needs and meet the same purpose. But if you need additional features (like a separate room for a dressing room in the bedroom), it is easier to customize your apartment from the start. 
It's the same with websites. Template websites offer a variety of design options, are low-cost, and can suit your needs. In addition, the money saved on design and development can be invested in SEO and link building for traffic generation. But, if you run into issues with usability and design, you may find yourself pushed into the framework of templates.
Well, there are a few good website builders:
Wix

This website builder offers a drag-drop function that allows you to play with design elements and create something original. Yet, there are over 500 pre-designed templates if you are not sure about your design skills. Wix also has integrations with different APIs, which allows you to use other services to improve your website.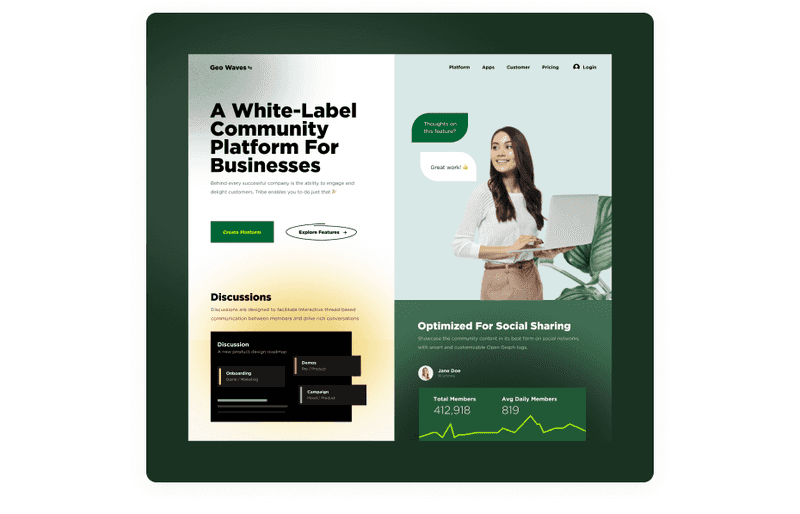 Dribbble shot by Fujio Studio
WordPress

It is a quite popular and famous website builder. It is good if you need a straightforward website. WordPress is often used for creating blogs. It has themes, which allow you to control the overall look of your website. There you can also find good blog-specific tools, which give you the ability to customize blog posts. So, if you need a simple website to post basic company information, it would be a good choice.

Duda

Duda offers lots of corporate website design services, and it is easy to use. There are many templates that you can scale according to your needs. This website builder also offers a drag and drop feature to place images and media into the layout without coding.

Squarespace

It offers many excellent designed templates, so you can create a beautiful business website design even if you don't have experience designing. In addition, Squarespace easily adopts website design to different devices, which is a good advantage. This website builder also has a web editor so that you can edit templates depending on your preferences. 
Working with website builders is easy and cheap, but it still has its disadvantages. For example, there are still limited possibilities for design, and not all website builders provide mobile responsiveness. However, DesignAdviser reported that over 70% of people are more likely to return to a website if it's optimized for mobile. As you see, there are some nuances with making corporate website design using templates.
A custom business website is more effective. 73% of businesses invest in a unique design. If you make a website from scratch, the code will be cleaner, so your SEO value will be higher. However, it is an investment in your marketing strategy. Yes, creating a custom website will take more time, but it is in the long run. When making a custom business website design, you can pay attention to every detail. You can ideally think over the design of each page so that it fully meets the needs of your target audience. This attention to detail can positively impact the return on your corporate website investment.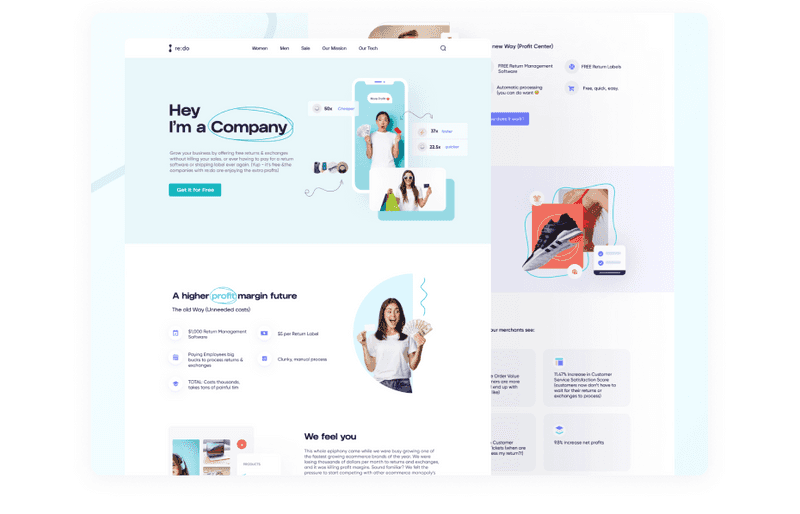 Dribbble shot by Acedesign
Yet, a landing page can also work well for your goals. It depends on what goals you are pursuing. A landing page is always dedicated to a specific topic: a product, a service, a promotion, an event, in general, everything that you would like to attract the attention of potential customers to. And the website has a deeper and more voluminous structure, which tells about the company, all services, clients, etc. If you are interested in making a landing page for your business, you can read about it in our previous article. 
read also
How to Сreate a Converting Landing Page Design: Tips and Recommendations from Experts
After choosing how to create a corporate website, it is time to discuss the required features to make it great.
Must-have Features For Corporate Website
To create a top corporate website design, you have to consider the optimal user experience. To achieve this, you need to assemble vital elements like puzzles. These elements constitute a positive user experience. Your business must leave a positive impression on your site visitors. 
Homepage Features 
It is the first impression of your website. Did you know that it takes about 50 milliseconds (that's 0.05 seconds) for users to form an opinion about your website? So it is essential to approach it responsibly. All these subsections can be linked to each other. For example, the section with Services leads specifically to the page with cases and these services.
Logo

Place logo somewhere on the top of the homepage. It is essential to show it, so visitors will remember it and associate with your company. 

Company name

Your company name should be visible. When a person comes to your website, they should see it right away. Your website visitors shouldn't scroll to find it. 

Description

A short description of your company should be located somewhere near the logo or company name. Here, you can also briefly describe the company's values ​​and goals and what your business is all about.

Search bar

Some users already know what they want to find on your website. Adding a search bar on the homepage and every other page of your website gives your visitors control of their user experience.

Navigation bar

Let your users explore your website and search what they need by categories or sections.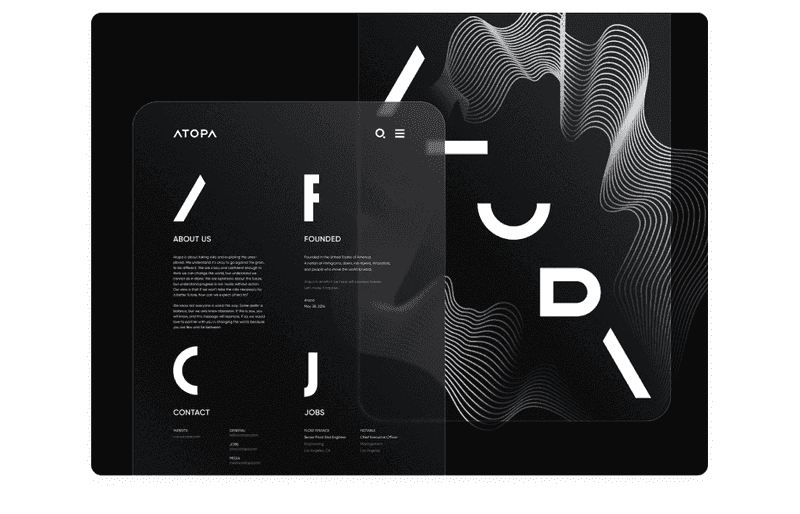 Dribbble shot by Ramotion
Products and services

When a visitor visits your website, they should immediately understand what your company is doing. Tell your users about your products or services.

Testimonials

Don't miss the opportunity to showcase the best reviews for your company. 

Live chat or real-time support

With this feature, you can get in touch with your visitors to provide a better user experience. You can also use ready-made solutions for this.

Contact us

Make it a button with a CTA on it. Your visitors should find this function easily to contact you for further work or ask a question about your services.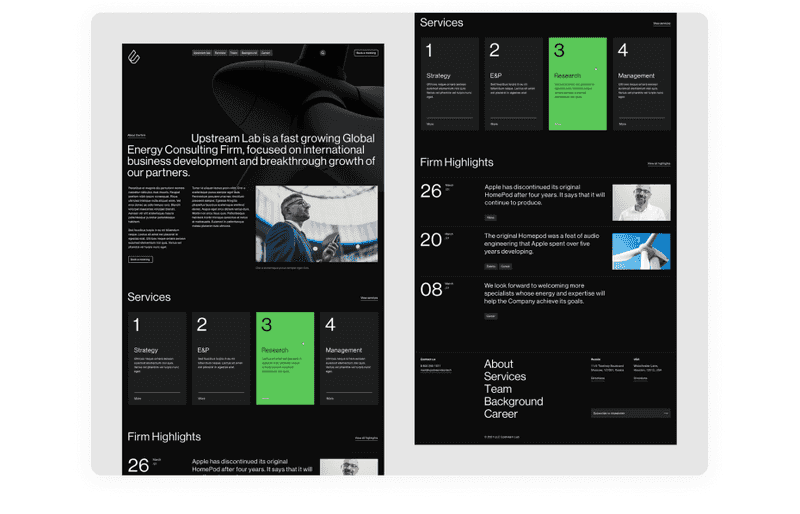 Dribbble shot by Alexei Maletsky
Footer Features
It is wrong to think that people don't use footers. It gets less attention than the top of the page does, but it is still essential. On the footer, people expect to see details about the company, contact information, or if the page is long, the global navigation can be placed there. Yet, the footer is vital for Google's SEO ranking. You can optimize it by adding keywords or phrases that add value to your business or boost visitors to take action. So, the features for the website footer are:
Site map

There can be placed other features that are not presented in the global navigation. It increases awareness of the website's primary content and reminds of other offers. 

Social media icons

You shouldn't underestimate the power of social media marketing. Include social media icons on the footer of the homepage or the footer of each page, so people will gon and visit your social media page. 

Brands within the company

Some companies reach the level that they have eminent partners, which you can specify in the footer. Or it may be subsidiaries that are also worth listing to increase brand awareness.

Terms of condition

Terms of condition may not be required by law for your website, but it is still wise to include. It can protect content on your website and preserve the user whose contacts you may gather with the contact form. 

Privacy and cookie policy

It shows the seriousness of your company. It is also essential for reasons of international law (GDPR, HiPPA, etc.) You can use an online generator for these purposes.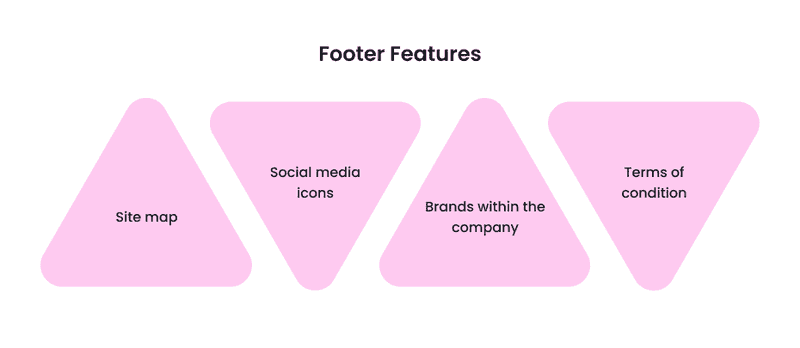 About Page Features
With the About Page, users will learn more about your organization. Of course, many elements you can place on the homepage, but if you have a separate page for brand storytelling, it will be better. 
Contact info

Include your corporate email or phone number there, so people will know how to get in touch with you. So, anyone who has some questions for you or has some issues with your product can contact you quickly. 

Contact form

Contact form gathers users' information and questions. This way, you can also get in touch with your visitors, get a new lead, or get feedback. 

Biography

A biography of the company and its owners give visitors a better understanding of what business they are doing. In addition, people like familiarity and feel more comfortable when working with people they know a little. There you can use storytelling to make the bio more interesting.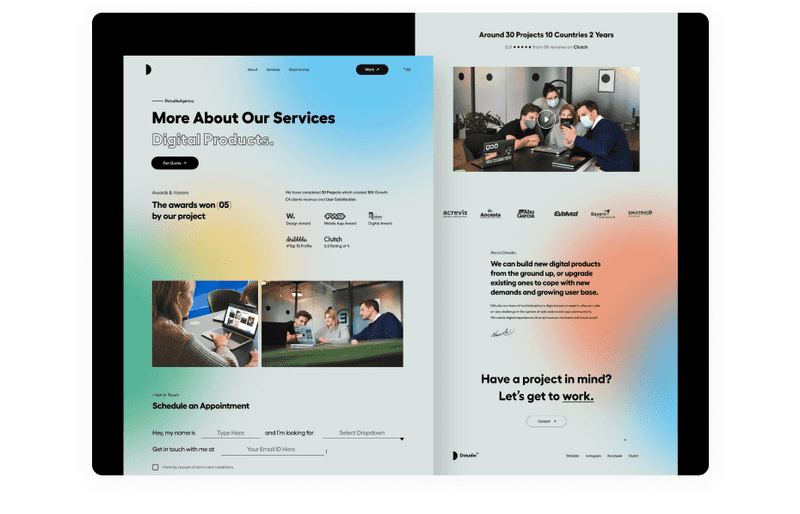 Dribbble shot by DStudio
Other Features for Your Corporate Website
The rest of the internal links and pages for your site may differ depending on what kind of business you have. Below, we have collected a few examples of pages that will help increase your company's website traffic and user awareness.
Blog
With this feature, you can bring traffic to your website with original content that will also show your level of professionalism. As a result, the business that has a blog can generate 70% more leads per month. In addition, a well-developed and informative blog is an opportunity to help new and returning customers become familiar with your brand and the products or services you offer.
One of the most obvious ways a blog can help you is SEO. You create content for your blog with keywords, and it allows you to rank in search. Well-thought-out keyword placement in blog posts can give you the boost you need to climb the rankings and draw attention to your brand for queries. Also, you can link between your latest and newer articles. It will also increase traffic.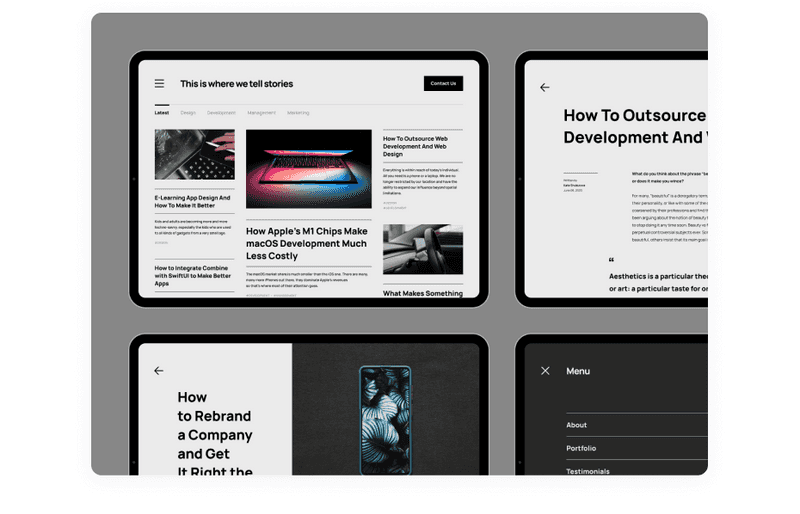 Dribbble shot by Shakuro
A blog also helps you have more content to crawl by bots, more links to post on other sites (backlinks are another vital part of your SEO strategy). Using algorithms to improve your site's ranking in various SEO categories can promote your website and your business in general. You just need to create content wisely.
The blog can have its features: 
Article search

Earlier, we spoke about having a search bar on every page of your website. But having it on the blog section is very useful so that visitors can find content by keywords. 

Author page

What if readers want to know more about who writes blog posts? Add a hyperlink by which the person will be redirected to the employee's profile. It will add personalization to your articles. Perhaps someone will be interested in reading the articles of only a specific author. Also, the author of the article himself will be pleased that his work is appreciated and distinguished.

Comments

With this feature, you will be able to evaluate how your content engages users. For example, let them comment on blog articles. After all, the blog articles were created for some kind of communication channel, right?

Tags and categories

Organize your blog content into tags and categories. It will allow your website visitors to find the information they are looking for faster.

Social media share

Allow your visitors to share your blog content through different social media. With this, you will get additional traffic to your website, and more people will learn about your business.

Subscribe form

Subscribe or newsletter forms can be placed anywhere on your website. But on a blog page, it is very appropriate. A person may like your content and want to receive it as a newsletter. Set it to appear when a user hovers over the X button to motivate them to take action.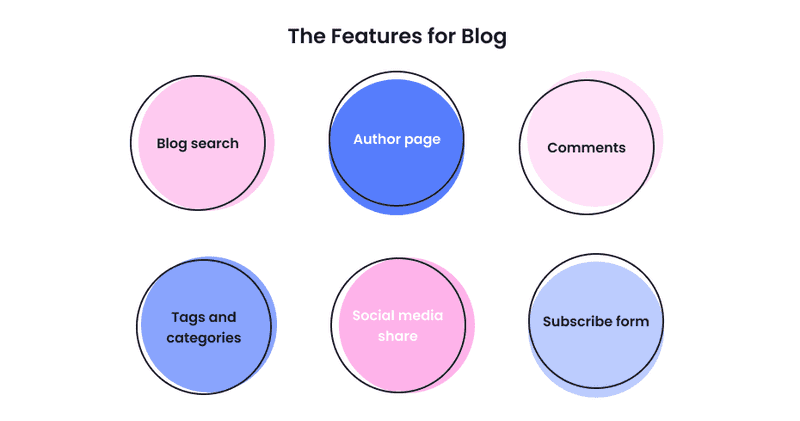 Services
Depending on your promotion model, you can collect your portfolio and case study as a separate section of your website or create particular landing pages that will collect all the information. People need to know who you are, what you do, and where you are an expert.
Thoroughly tell your website visitors what you do and what services you provide. This page may also have a "Contact Us" form so that after reading about your expertise, an impressed user can immediately reach you.
Case studies show users how your company is doing and how it handles tasks from other clients. Maybe they have a similar problem and want to see how you can fix it. This section also works well for attracting new customers. Or, if a person doubts whether to order a product or service, the case study will convince him that it is worth it. Finally, feel free to show professionalism.
There you can also add some features:
Tags

Distribute services, case reports, relevant articles, and other documents by tags or sections. It will also make it easier to find and make your website more enjoyable.

Relevant articles

You can arrange case studies into full-fledged articles in which you talk about how you coped with the tasks and show your expertise in this topic. Employees from different departments can also show expertise here. Thus, you will show that your team consists exclusively of professionals in their field.

Portfolio

You can create a portfolio as a separate landing page or show it in the form of a beautiful presentation. Showcase your business and expertise in all its glory.

Workflow

Archive more your website's visitors' loyalty by showing them the way you work on your projects.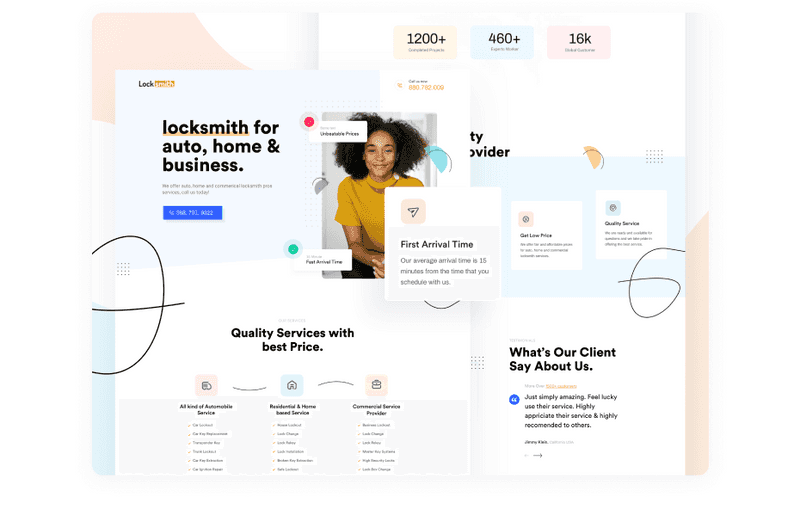 Dribbble shot by Rashed Kabir
Documents
You can make your guideline or presentation. For example, you can present your product or the stages of how you work with something. You can also allow your site visitors to download various checklists and other documents that demonstrate your industry awareness. Thus, you will not only show professionalism but also create more confidence in your potential clients. It can also attract people who are just interested in a similar market segment, increasing your traffic.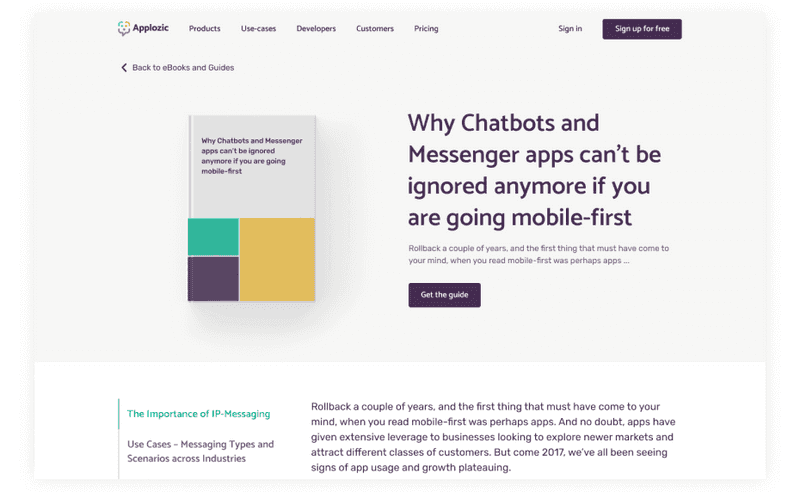 Applozic case by Axicube
The next section of the corporate website is just as important as the previous one.
FAQ
You may be often asked the same questions. To avoid the constant repetition of answers, you can create such a section of the site. This way, you will save time and not be answering the same questions. Here you can also add a live chat for quick communication or a "Contact us" form if the list of answers to questions has not yet satisfied your user. The goal of an FAQ page is very similar to the purpose of SEO: to provide solutions to a question your audience asks.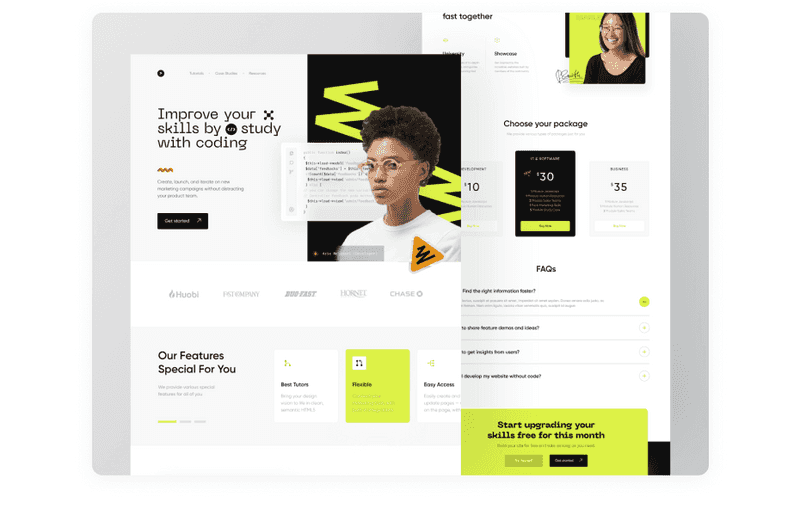 Dribbble shot by Odama
Careers
Here you can describe in more detail the history of the company's creation. How long do you work in the market? What are your company's goals and priorities? You can talk about your corporate and business ethics. Personalize this section with photos of your team or your office. It will create more trust and empathy among the visitors of your corporate website. 
Add subsections for this page:
Team

Here you can sort your employees according to the teams in which they work. For example, a separate photo of each employee of the marketing team and each sales team employee you can put there, so visitors will see which person belongs to which department. This section is needed so that each of your employees feels like a part of one big team. In addition to the employee's photo, you can add a short bio about them.

Career

It is a page where visitors can see who works in your company and with whom they will work if they apply for your open job vacancy. There you can also place new career opportunities.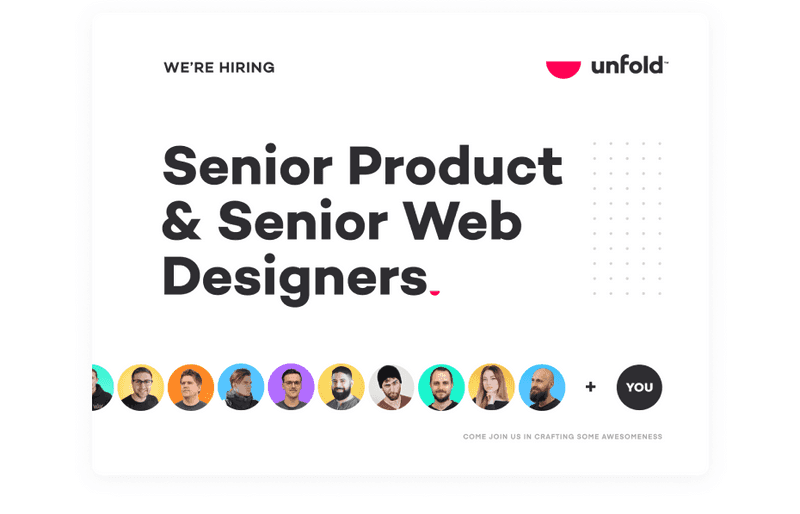 Dribbble shot by Unfold
Well, we've figured out what should be on your website. But how do you make it?
Critical Steps to Building the Best Corporate Website Design
38.5% of users judge a business by how their website looks at first glance. So it is vital to do your best to impress users with the website design. However, there are several essential steps that you cannot skip to create a successful corporate website. It is not only about pretty corporate website design. It is about strategy. Don't underestimate the power of digital marketing. The first thing you will need to do is thoroughly study your audience and determine what to fill the website with. Let's dive into this. 
Discovery
'As boring as the planning phase might be, it will serve you well in the future. A well-planned site has consistent branding, a setup that makes it easy and seamless to grow and develop, and lots of content that is optimized for SEO (search engine optimization) with the right keywords in mind.' Peter Erlandsson says. 
When it comes to building a website from scratch, you may want everything at once. But you need to slow down and first take the time to research and plan. Without these possibly boring points, it is impossible to make a good converting website. Below, we've listed some of the things you need to consider before going further:
Identify your target audience

There is no point in trying to capture the entire existing audience at once. For starters, remember for whom corporate websites are created. These are potential investors, employees, mass media, competitors. As well as potential clients. Keep this all in mind when defining the target audience of the website. This will all affect the business website design, the content, and even the photos worth using. 

Remember that every business will have a different website with a different purpose. There may be other pages with services for different audiences. For example, services for a large company, services for a startup, and customized services that your business provides.

Do competitor research

In the modern world, few people in business have no competitors. So before you start building a website, look at what your competitors have done. This way, you can understand what looks good and what can be excluded. Learn from their mistakes.

Catherine Cooke, founder and CEO of Upskillwise has said this about the importance of competitor research: "When building a business website, it's important to look at what your competitors are doing. You want to stand out against your competition, but you also want to align yourself with industry standards. So find three or four elements of their web design that you can mimic, and find another three or four elements where you think you can do something completely different. This will tell users who visit your website what kind of service or product you offer and help you stand out and stick in their memory long after they've clicked away."

Content is a king

Having content beforehand makes the overall process of creating a website smoother. In any case, during the process, you will want to add something else. Nevertheless, it is better to think over the texts and photo content in advance.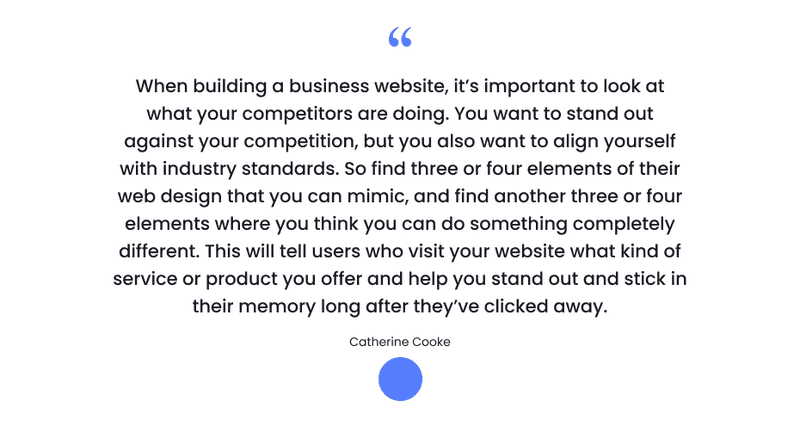 All of these will affect the way your website will look. Yet, it will help to build a digital marketing strategy to skyrocket your corporate website. Different approaches need different tools. For example, not everyone needs a blog. It is perhaps more important for someone to show their online presence through Instagram or other social networks. 
Wireframing and Prototyping
Poor user experience drives almost 50% of users to go with competitors instead. We don't want to let that happen, right? So to make a good user experience, don't force your visitors to click too many times to find what they want. 
Wireframing is a good thing to create a conversion path for each type of persona. Put yourself in the shoes of each persona and visualize their way from the home page onwards. What does this person need on your corporate website? What will interest you? Think over all the details to make the user path as convenient and short as possible.
At this stage of website creation, you can think about consistent navigation. It's like the backbone of your website. Here are some tips to consider when making navigation:
Stickiness

The navigation bar should be visible no matter how far the user scrolls. So, it will be easy to navigate anywhere they need. 

CTAs

There needs to be at least one call-to-action on your navigation bar to increase conversion. 

Descriptive labels

It helps search engines to understand what your website is about. Yet, it allows users to know where information is that they need. 

Contact info

Include contact information as a CTA to your website navigation.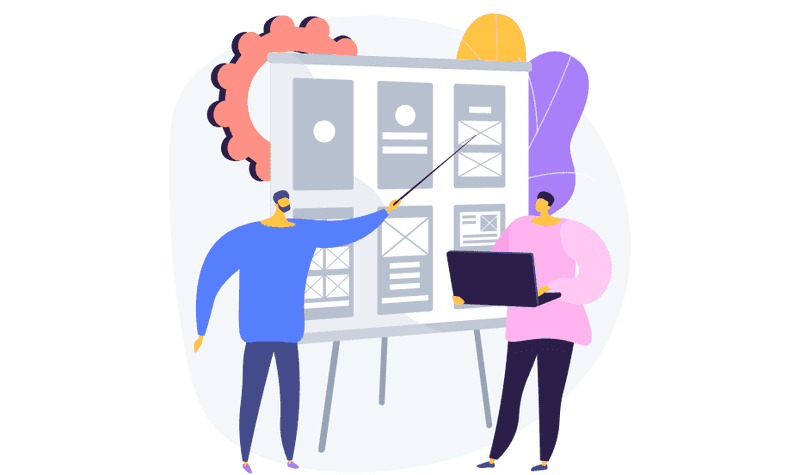 Strategically thoughtful and modern corporate website design will make you stand out from your competitors. Here are some of the vital elements of a great user experience:
Usefulness

Your corporate website must meet the needs of your target audience.

Usability

The business website should be easy to use and navigate.

Accessibility

Think of people who have disabilities. They need to be able to access your website too. 
After visualizing the user's journey with wireframes, it's time to test it out with clickable prototypes. At this stage, you may find some flaws, but they can be easily corrected. After that, you will have a ready-made design, just without content and gloss. At the next stage, you can just polish and make your site not only usable but also very beautiful. 
Creating a Corporate Website Design
When it comes to corporate website design, you can choose any style you want. It can be from minimalistic to brutal. Before you decide, you can search for corporate website design inspiration from different sources like Behance or Dribbble to see what else is on the market. Yet, you can gather corporate website design ideas when researching your competitor's websites. Then, if you still can't choose the picture of your future website look, search just for another small business website design examples without reference to a specific market sector.
But you need to remember that your business website design should reflect your branding style and the vibe of your company overall. So no matter what exact type you will choose, there are some tips that you can apply when creating a medium or small business website design:
Avoid clutter on your Homepage

The homepage of your website should quickly and easily convey the main message of your company. People rarely read all the text on a page. Typically, users read the text diagonally, clinging to some of the individual elements and phrases that are most striking. Therefore, the homepage design must be clean and tidy. Keep important content on the top. Visitors should understand what your website is about at first glance. 

Don't forget about the importance of white space between elements. With it, your corporate website design will feel more balanced. Yet, supplement your corporate website design with good CTAs (call-to-action) that will drive your visitors' attention.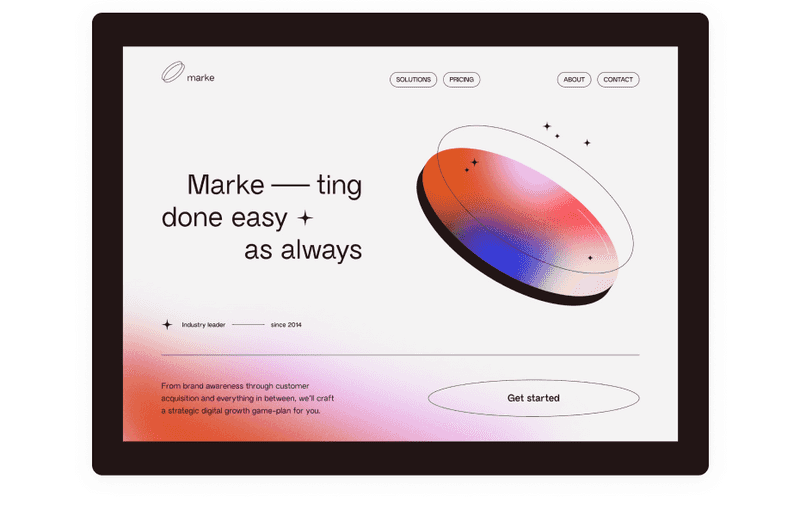 Dribbble shot by Gecko Dynamics
Visual hierarchy

It is an important design principle. With the proper hierarchy on your corporate website design, your content will be more effective. If you make a good website layout, you will be able to drive users' attention in the right direction. Don't underestimate the importance of typeface sizes and weights when applying text content to your website. Apply contrast and spaces for the correct accentuation. Establishing the proper visual hierarchy in your business website design will help you to make visitors follow all the breadcrumbs you have left for them.

Readability

This concept defines how easy the content is to read and understand. Do not use too many fonts. Make sure that the text is readable in size. A basic rule for web design is to make your body text at least 16pt. Don't forget about contrast as well.

Imagery and icons

Use high-quality images or illustrations on your corporate website design. It can be another path of communication between you and your website's visitors. Yet, some text blocks can be replaced with icons and illustrations. For example, when planning navigation, you can diversify it with icons. People don't like to read too much text, so if you have the option of replacing the text with an illustration or photograph, do so. Sometimes a picture can tell even better than any text.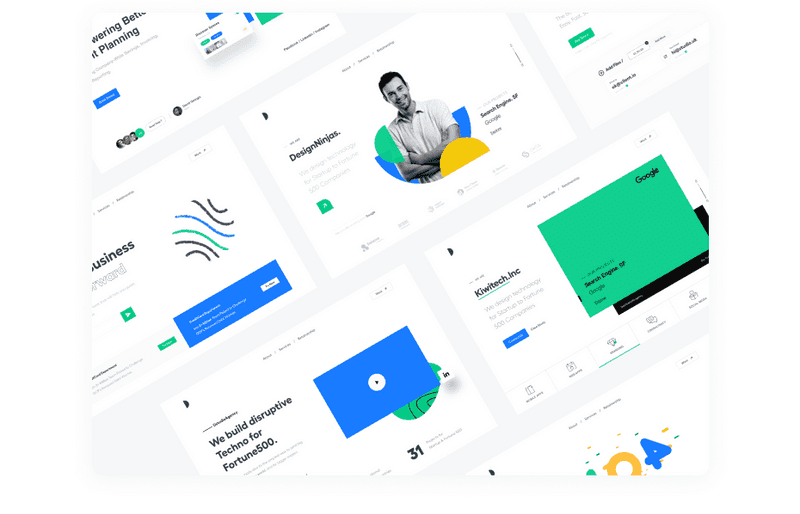 Dribbble shot by DStudio
Colors

Colors can also tell a lot about your brand. The same psychology of colors can give you many answers and ideas for choosing a color palette for a corporate website design. The choice of colors can also be based on the analysis of your target audience. People with different demographics may like other colors and shades. Also, don't forget about people with color blindness. The color palette should at least be pretty contrasting. If you already have a brand book, base on it when choosing colors for the site. But you can also always add one or two more shades. And yet, it is worth remembering that there should not be too many colors not to upset the hierarchy and balance.

Navigation

Navigation should be very thoughtful and orderly. You do not want your users to suffer because they cannot find something and go to competitors because of this? Therefore, in addition to the navigation menu, you can make your company logo clickable. By clicking on it, the user will be redirected to the main page of your website. Yet, if your website pages are long to scroll, consider adding the "Back to Top" button. It will make the usage of your website more pleasant.
More about the website and mobile design you can read in our previous article. 
read also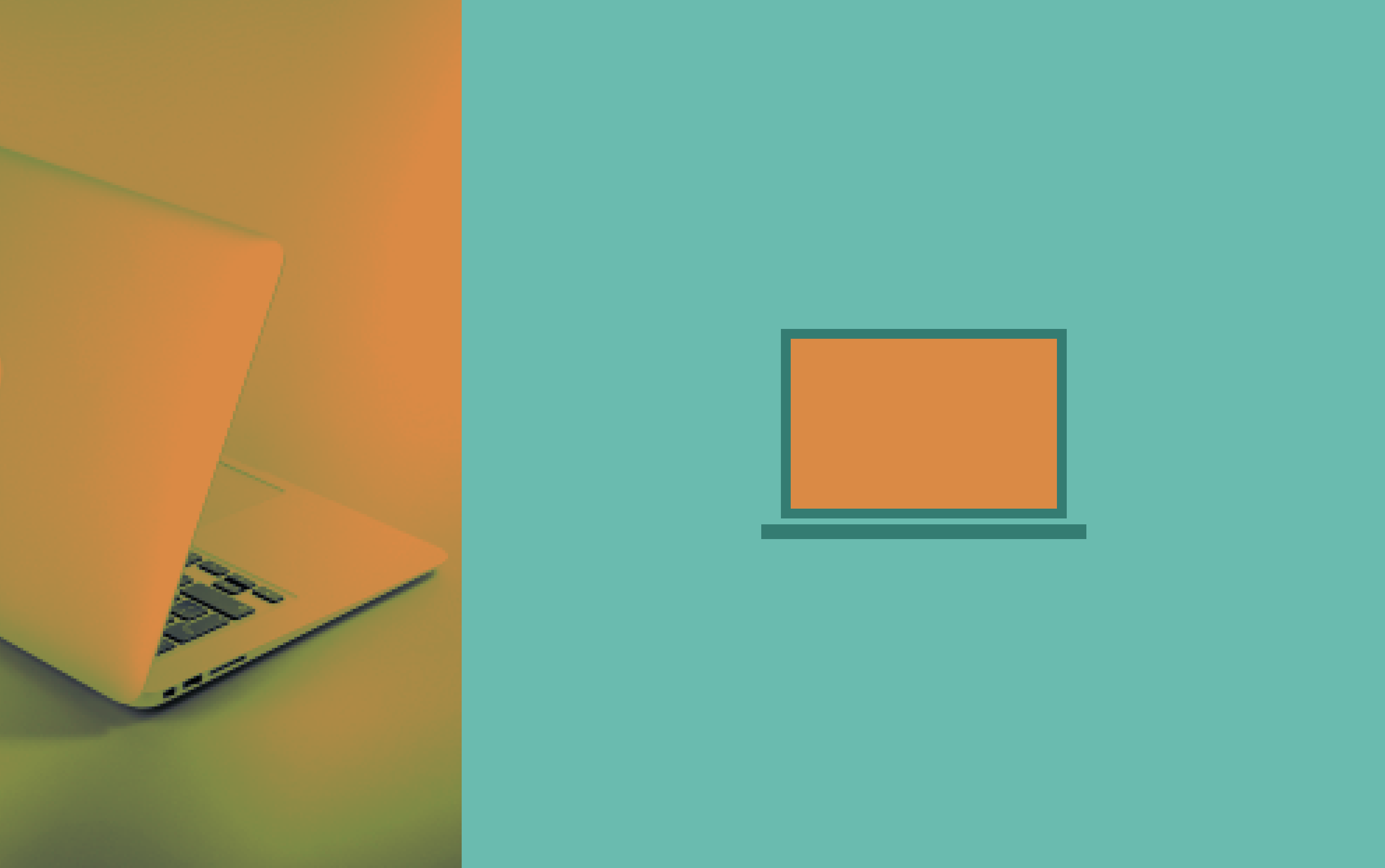 5 Check Points of Website and Mobile Design: Help Your Digital Business Prosper
After we figured out what to learn before creating a website and what to look for in the business website design, a couple of last but no less essential touches are left to disassemble.
Optimize your corporate website for search engines
Almost 70% of the world's web traffic goes through Google, so small and medium businesses should optimize their websites relevant to Google's algorithm. Garry Brownrigg, CEO and founder of QuickSilk, said: "The higher you rank in search results, the more traffic your website receives, the more business opportunities you have." 
Use search engine optimization (SEO) tactics to make sure that users can find your content organically. For example, you can use keywords in blog posts, URLs, and pages. You can use keywords on your whole website, but make sure you make it naturally. Don't put too many keywords in line. 

One more thing to consider is the time of loading. A study from Google shows that when page load speeds go from one to 10 seconds, the probability of mobile users bouncing increases to 123%. And we will talk about the mobile version of the website at the next touchpoint.
Adopt your website for mobile
According to statistics, 85% of adults think that a company's website should be as good or better than its desktop website when viewed on a mobile device. It doesn't matter which device the user prefers. They should be able to access your website. Nowadays, many users increasingly prefer to use smartphones, so you shouldn't ignore it. The design and usability of the website should be good regardless of the device.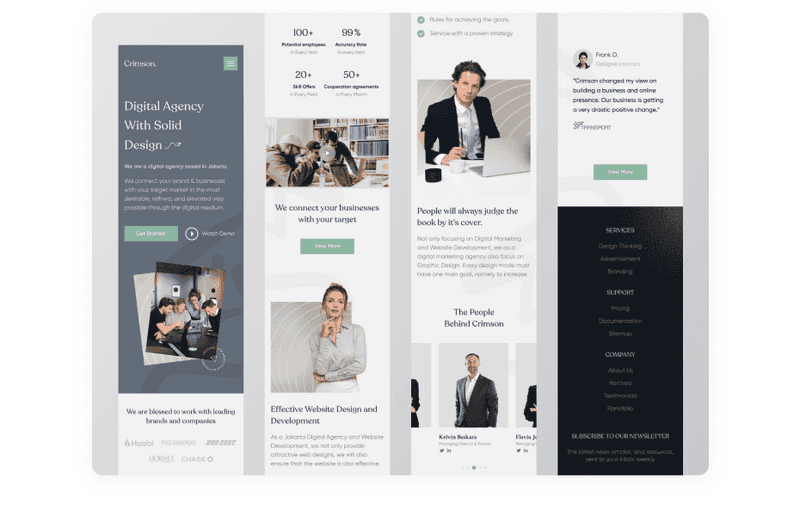 Dribbble shot by Odama
Challenges in Building Business Website Design
Building a corporate website is a serious and complex undertaking. But you can still deal with it. We have collected some typical challenges for such a task to know what the future holds for you. But if you hire a professional team, these challenges may become a little less.
Optimizing website performance

The number of visitors to your site will increase over time, as will the amount of content on it. People leave websites that take a long time to load. To ensure optimal website speed, you must tweak and tune website performance by enabling caching and increasing page speed. Invest in responsive website design if you don't already have one (all of these features affect your search rankings site systems).

Updating

The world does not standstill. Therefore, over time, you may have to update some design elements, content, visual content. You need to manage your website just as owners look after their physical stores. To make it, you can teach your employees how to do it or hire a design team for maintenance. 

Social media marketing

Just making a modern corporate website design and launching it is not enough. To establish your brand, you will need to promote your website through different marketing channels such as social media, email marketing, and blog. Online presence means much in our modern world. Yet, you need to initially build the right marketing strategy for your website and update it according to any significant changes. 

Content

Creating engaging content is a challenge in itself, though - before you start, you'll need to identify your keywords and plan your content accordingly. This is the key to ranking better than your competitors in the SERPs (Search Engine Result Pages). By creating engaging content, you can tell more about your company and thus attract new customers, employees and investors. Good content will increase the conversion of your website and increase the relevance of your company. Content that shows your professionalism will also strengthen your company in your place in the market.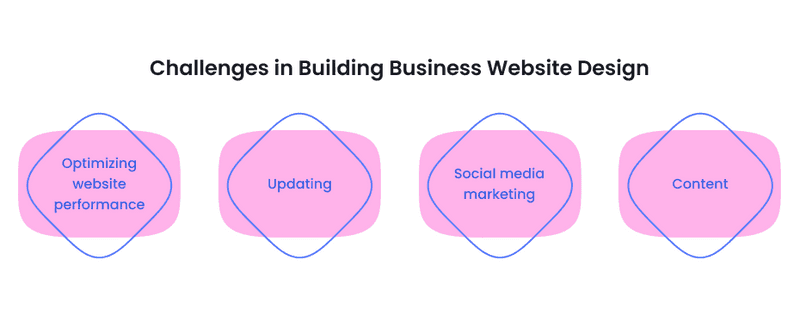 Conclusion
Building a corporate website is an investment in the future. In the modern world, you remain invisible until you have a website. Your corporate website is like another employee who works 24/7 and sells and talks about your services. Therefore, you need to take a responsible attitude to this task. In order not to be mistaken for sure, it is best to leave this matter to professionals. 
Our team has dealt with many startups and businesses in different market niches. We have developed websites, applications, and landing pages, so we are confident that we can find the perfect solution for your corporate website. Moreover, we know how to do it beautifully and effectively.