Lucrative business development dwells mainly on UI/ UX app or website design. According to Forbes, better UI could increase conversion rate by 200%, and better UX design could yield conversion rates of up to 400%.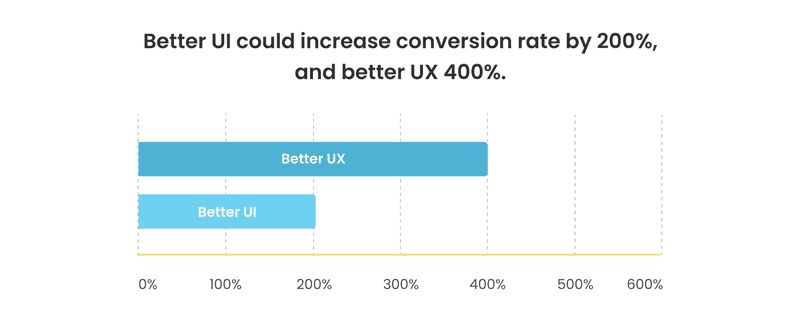 Effective UI/UX design should be not merely creative but also easy to use. Whether a large or small company, everyone has already realized its importance. Yet, many questions themselves where to start and how to integrate UI/ UX principles in business processes. 
"User experience provides powerful insights that allow companies to humanize their customers and insert their needs, intentions, and behaviors into the design and development process. In turn, these insights enable companies to create experiences that meet—and sometimes exceed—customer needs and expectations," mentions Janelle Estes, Director of Research Strategy at UserTesting.
This article sheds light on the significance of the UI concept and UX processes that startups, development teams, and even large companies may face when launching or boost their products. 
Keep reading to find out the next: 
how to visualize your concept;
why you should test your ideas and make sure they are valid;
how to choose a matching option before starting project development;
how visual redesign enables you to improve metrics; 
how to attract your audience in the digital landscape;
what principles help in creating a user-friendly app or website.
UI/UX Design Process: Where to Start
UI/UX design is the process by which digital products are imbued with creativity. To understand where creativity in UX design comes from, we have to take a broader perspective and understand the role it plays.  
What's the difference between UI and UX? UI or user interface is a range of assets (typography, images, graphics) clients interact with. User experience (UX) encompasses customers' experience with a company's products and services. 
You can hire an in-house specialist for upgrading or creating from scratch user interface and user experience design. Yet, it may be costly for your company. For startups or companies jumping into the digital space, outsourcing companies come in handy since they can create visual concepts separately or as a part of a design process.
So, now we can dig deeper and clear up what are the UX design process steps.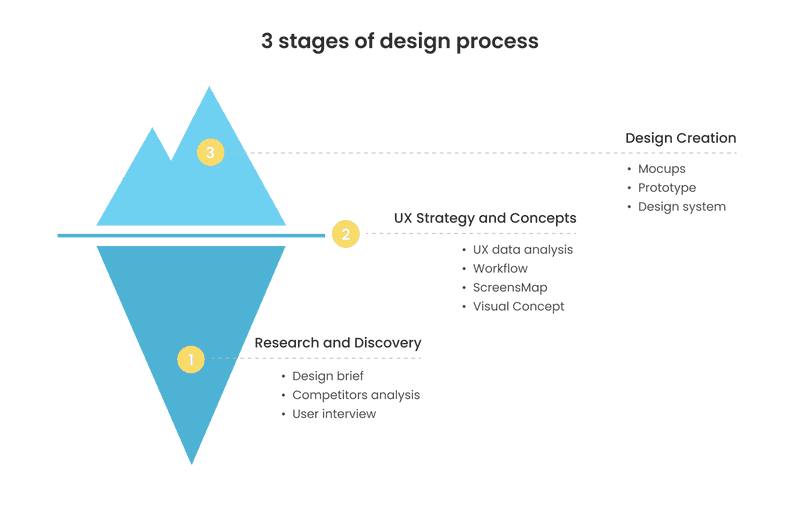 Research & Discovery
Our cooperation with you begins with a design brief. At this stage of design process, we discuss planned activities, customer expectations, and design requirements. One size fits all is not our team's approach. On the contrary, we try to understand your potential users' problems and thus provide feasible solutions. Businesses of all scales can rely on our UI/ UX design expertise because we know how to create a user interface that stands out.  
We also analyze competitors and look for features to stand apart. In terms of the project deadline, we can draw up a CJM, interview our users, create a buyer persona, etc. 
Well, we can now move to the following stage. 
UX Strategy and Concepts
Visual concept creation underpins project development. It presents the core feature of your UX design. Only after research, we compile a list of product functions, prioritize them, and draw up the product information architecture that implements that concept. Then we form a task backlog encompassing different UML diagrams, workflows, task flows, and other processes. 
Additionally, our specialists make sketches and UX concept testing guidelines to ensure we're moving in the right direction. We can check out visuals, such as color schemes, fonts, style, to make a design even more appealing for your clients.
Design Creation 
The final stage comes when we get all approvals. Step-by-step, we complete all the tasks from the backlog. If necessary,  we also compile guidelines so that developers could get more details about the UX process and the whole vision of the end concept. 
A quick plug before we continue. If you want to stay tuned with the recent trends, fill out a short form below to get the Axicube Ultimate Guideline on Design Process our designers carefully crafted for you.
Download
Design Process Overview by Axicube
Why User Interface Design Principles Matter
By the same token, UI design principles rely heavily on the human visual perception of the world. As it is coded in forms, structures, and colors, people can encrypt some kind of message in your design. But, what elements should never get overlooked?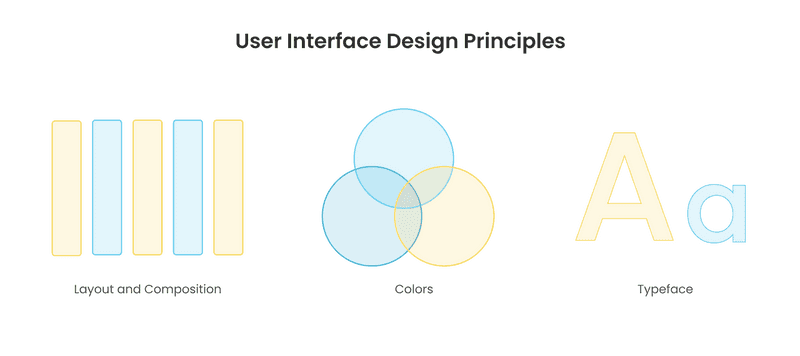 The core of a worthwhile UI concept includes the following components.
Layout and Composition
Layout is about highlighting and conveying the prime message in web and mobile app UI ideas. As for composition, it defines the structure and visual hierarchy of elements on the page. With both elements in mind, you can structure all elements proportionally. So, it would help users get the required information with no or little effort and time spent.
Colors
Colors serve designers as a powerful tool to communicate their vision and UI concepts with users. They influence 85% of shoppers' purchase decisions. With the appropriate color choice, businesses can lead to desired actions, trigger specific associations, and as a result, increase brand awareness.  
Typeface
Typeface creates a mood, so both size and font matter. It expresses the way you interact with your audience. Accordingly,  it should match the overall UI concept.
UX Design Ideas for Effective Product Development
In that case, the mix of basic design vision and human behavior patterns enables you - as a startupper or an experienced business owner - to create websites that result in conversions. You have to dig deeper into buyer psychology to learn more about your clients' expectations. And a smart design can address their ultimate problems instead of coping with subsidiary tasks. To say, it allows for ordering a taxi with one click or buying a product on the spot without contacting sales managers and whatsoever. 
What principles should you bear in mind for a worthy website design?

UX Research Ideas
As a business owner, you have your own vision. Yet, a decent user experience is about a professional approach to your website design rather than the idea implementation. That's why UX research should lie at the heart of your interaction with clients. It will help you better understand their needs and get valuable insights about your product.  
UX Concept Map
What's the value of concept maps in UX design? They are the key to success in the user experience design process. With a UX concept map, you can navigate UX processes more efficiently since you spotlight all stages and inform how to organize them. 
UX Concept Price
No matter how ingenious your concept vision is, you need money to bring it to reality. So, start with a concept. As soon as it is ready, you can make an approximate calculation of money and time. It will help you prevent all possible pitfalls and allocate your budget properly with web design outsourcing.  
UX Concept Testing Guidelines
Eventually, don't forget to test how your ideas work. Check out whether your vision of design is frustrating or easy-to-use. Use the obtained insights to make the user experience even better after testing it. 
How to Create Concept UI/ UX: Case Study 
Last but not least, UI and UX design plays a crucial role in business development. Although this step is challenging, we have some useful tips for every business. Dwelling on them, you'll be able to transform your vision into a user-friendly website or app.
Brave UX Case Study
Let's get a closer look at the UI/ UX design process at Brave UX. The company focuses mainly on the creation of the UI concept and UX design. The team helped to come up with the core requirements for iOS and Android applications. Brave UX delivered user flows from scratch, as well as high-level, early wireframes for a beverage tech Startup, an e-commerce support platform, an energy compliance company, and many others. Ultimately, the team provided UI/ UX design ready to be implemented.
Tips for Effective UI/UX concept
First and foremost, keep your audience in mind. Figure out its path on your site or app to optimize all processes. Help them find necessary information, avoiding meaningless clicks. 
Secondly, set expectations with your design. You should be creative but respect standards. Highlight a button or add relevant text. Use widely adopted symbols and colors to emphasize what actions you anticipate from your users. 
Thirdly, exclude possible mistakes beforehand. 
Lastly, we hope you have understood that the UI/ UX concept cannot be neglected. Based on our expertise in this field, we can help you develop a concept and turn it into a design. Our team cooperates with developers, designers, and business analysts, so you'll get the best solutions for your application and website design. We offer a reasonable price and worthwhile result for our full-packaged service: from UX research to the project documents preparation and support throughout the development.