Website and app design is a visual representation of your brand. Whatever service, good, or product you sell, the UI and UX must be of the best quality. But let's be honest: in most cases, the design leaves enough space for improvement. 
Did you know that 90% of people leave a website because it was badly designed? It means the only thing: if you know that design is your weak spot, it's time to start redesigning. Therefore, website and app redesign is a process that you cannot avoid if you want to keep your visual representation up to date.
What can indicate that you need a redesign?
you conversion rate is steadily dropping;
you see how you're losing your customers, even loyal ones;
you've added new functionality but are not sure if they work properly;
you want to improve your customers' experience;
you want to boost conversions and attract new customers;
you've undergone rebranding and want the design to reflect the changes;
you feel that your current design seems outdated and do not present your business at its best; 
you want to conquer customers on other platforms, for instance, mobile.
Why redesign a website or app? Consider it a hygienic routine, just like having your hair cut.  App or website redesign will help with user experience improvement, raising customer loyalty, and increasing conversion rate.
'Why redesign your website' is not the only question that you should ask yourself. Other questions are 'how to redesign a website' and what process stands behind website redesigning.
This article discusses the website redesign process. We will answer such questions as what redesign is, when and why start a redesign, and provide you with a step-by-step guide on an effective redesign that covers all key website and app aspects.
Importance of good design for web redesign
Can you imagine that web design alone forms 75% of the judgment of a company's credibility? Design is one of the strongest tools that help to establish a solid online presence. And when you get your website redesigned and all design issues fixed, you can expect better communication with your audience and new visitors.
"Design is a formal response to a strategic question," Mariona Lopez, business owner, says. Indeed, when you have established certain strategic goals, website revamping may help you achieve them. A design has a huge impact on customer loyalty, as a good design means that a user can easily enjoy the website or app. However, a great user experience is not enough, as your website should also look good. Moreover, for the B2B segment, a good design helps in process automatization.
For example, website redesigning helps in:
increasing conversion rate;
attracting more users;
raising customer loyalty.

Obviously, with the quick development of the online world, the approaches to design change all the time. You need to keep all your online assets up to date. So whenever you think 'should I redesign my website?', the answer is yes. But you need to follow certain website redesign steps that make this process less complicated but effective.
Do you need app redesigning?
Recent studies show that users spent 88% of their time on apps. So if you plan web redesign, it won't be enough. A mobile application also requires conducting regular audits and improving user experience.
Therefore, you should not ignore the option of mobile app redesign. If done right, it helps improve communication with users, increase engagement, and reach better results in conversion rate.
When to redesign web site or app?
Website or app redesign is a complicated and complex process that involves the efforts of different teams. It's more than just replacing an icon with another one. It's about changing the customer journey and making it less complicated yet effective.
Moreover, there are certain situations when a redesign is necessary, even though you may think that your website or app is absolutely fine. Redesigned websites are a preventative measure that easily helps to solve many issues.
Any website redesign strategy shows that the time for redesigning has come when:
you are not satisfied with the results
the target audience has been changes
you've changed your business goals
the metrics are getting worse, although the product is the same
your design is out of date
you introduce new technologies
redesigning an existing website will reflect a change in your business processes
For example, you started to get complaints about your app. Users cannot find the right way to process their requests, and they need extra help. What should you do in this case? One of the decisions is to redesign your app. However, this time you need to spend some more time researching the customer journey to get to know where exactly the problems start to occur. Below, we will clear up the website redesign project plan and cover the most important aspect.
We've created a brief checklist to help you understand whether you need a website or app redesign. Please check these eight questions: they will help you understand what spots you need to pay precise attention to.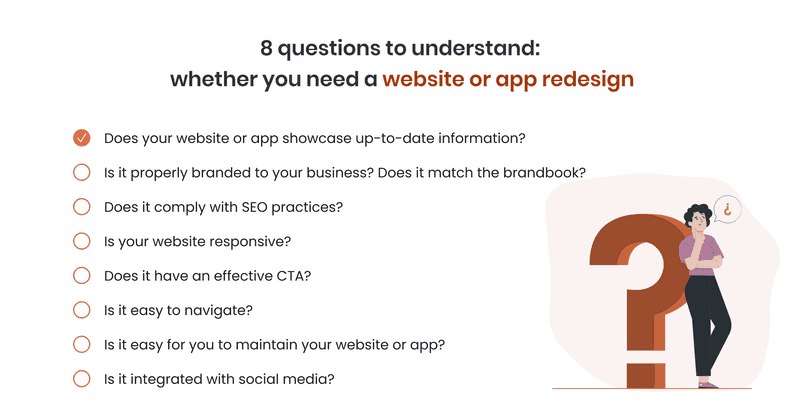 Does your website or app showcase up-to-date information?
Is it properly branded to your business? Does it match the brandbook?
Does it comply with SEO practices?
Is your website responsive?
Does it have an effective CTA?
Is it easy to navigate?
Is it easy for you to maintain your website or app?
Is it integrated with social media?
If you have noticed that you have more than 1 'no' answer, you need to redesign your website or app.
Step by step guide to redesign your website
In general, it takes 10 steps to redesign the website or app, no matter whether it's a corporate website redesign or a financial institution mobile app. Below, you will find each of them with a clear explanation of why you cannot omit this step. In general, this is a basic website redesign project plan template.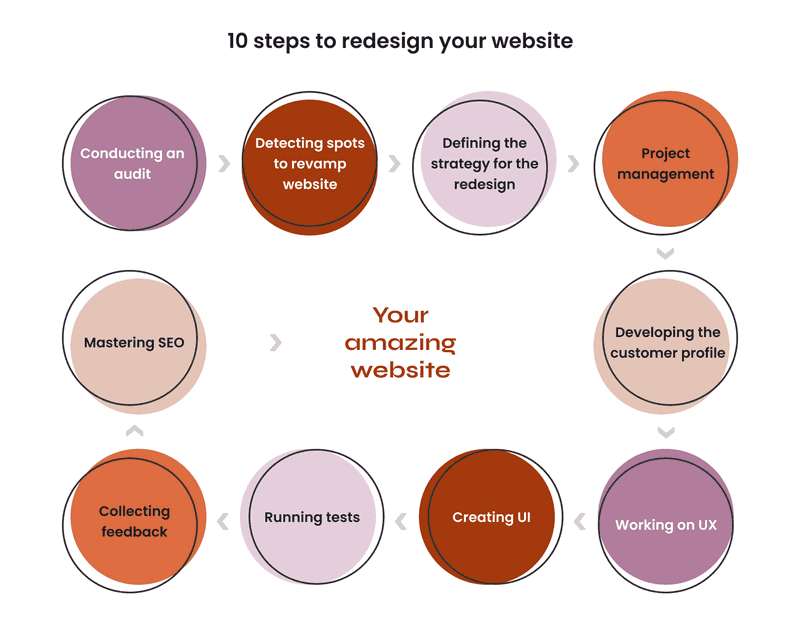 Conducting an audit

An audit is the basic step in a website revamp that helps understand the market and the product. Without this information, we cannot move further to understand the consequences of our actions. 

Read about the pitfalls of a website design audit in our article
read also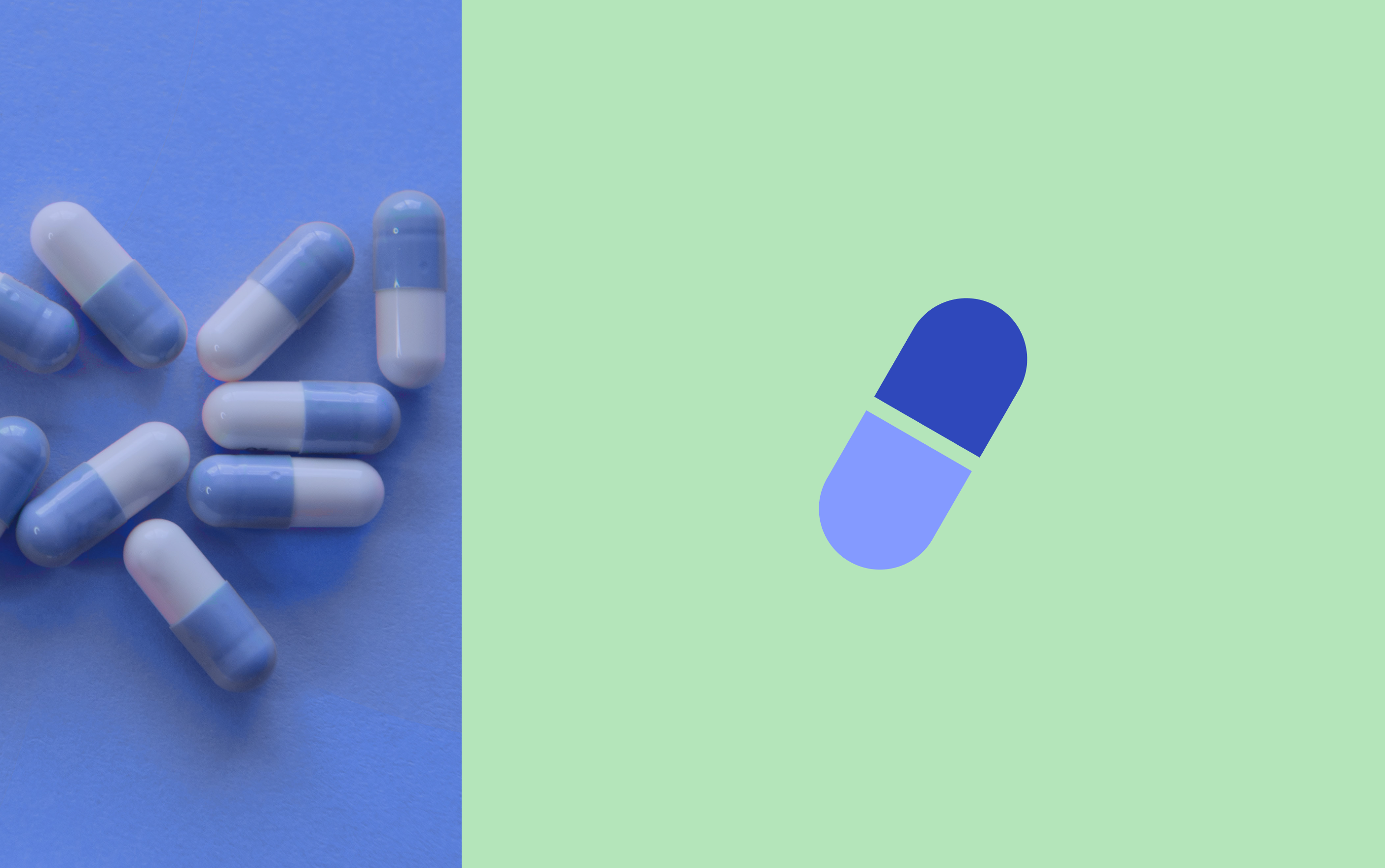 How to boost performance with UX audit (and who can do this for you)
Detecting spots to revamp website

It happens that the problems that occur with the website or app are not connected with the design. We need to make sure that redesign is really necessary and detect the spots for further work. 

Defining the strategy for the redesign

At this step, we develop the strategy for redesigning and define the scope of works to be done before website relaunch.

Project management

Any website redesign plan should prioritize the following: the changes must be implemented gradually so that they won't affect other communication channels and confuse the users.

Developing the customer profile

Who is your ideal customer? At the fifth stage, we develop the customer profile to know more about your clients - their ICP, goals, and the problems that they want to solve with your product or service.

Working on UX

We find the most effective ways to enhance the user experience. Apps and websites that need redesigning must look and feel great!

Creating UI

Visual representation of your website or app must be attractive. We never ignore this point and create effective yet beautiful designs.

Running tests

Beta testing is vital to understand how the introduced changes affect the product or service. Of course, it affects the website redesign timeline, but the overall results are worth these delays.

Collecting feedback

We always keep your customers first, so we always ask for their feedback. This information helps us understand how to manage a website redesign project and what changes to implement first.

Mastering SEO

If we're working on the website redesign, we always care about SEO and make sure that everything will be fine with these metrics.
Case Study: app redesign for Neobank
Our CDO Eugene Tretyak worked with the Neobank app redesign (Ukrainian mobile bank). The previous design was out of date, and it did not match the new brandbook. 
To create an effective design, we followed our website redesign checklist and started with the analysis and research of the market, and learned local banking requirements to satisfy them in the checkout process redesign. He conducted several workshops with Neobank to develop a new strategy for app design and its promotion. 
The whole process of app redesign covered the following aspects:
redesign of the main page
simplification of widgets 
improvement of widgets to establish new logic of working with different sections
introduction of onboarding 
One of the main tasks was to create an onboarding process for the bank card purchase.  Eugene's work resulted in a correct and flexible onboarding with simple logic, making it easy to issue a card to a new client in a few clicks. It has significantly accelerated the users' experience with the application.
Currently, the updated app is used by Neobank to communicate with the existing users and attract new customers.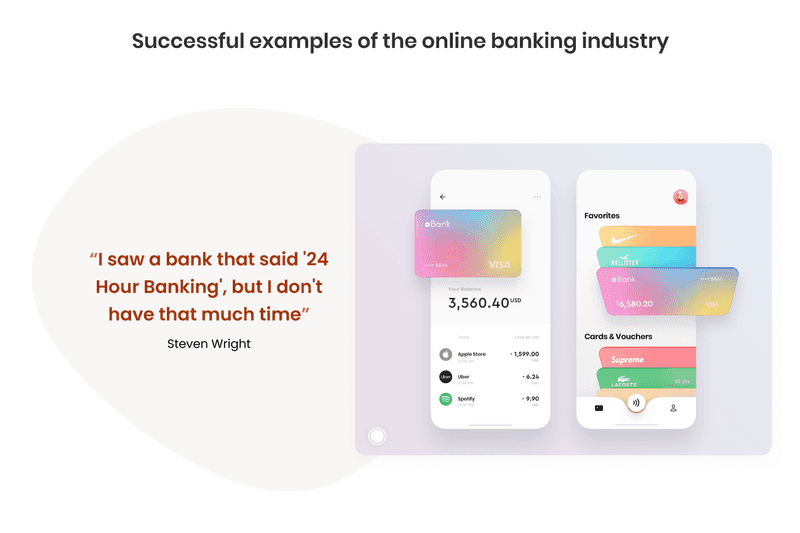 How can website design studios help with the process?
A redesign is a process that affects the overall results of the business. Therefore, the approach to website or app redesign does not tolerate ignorance. As we have already mentioned, redesign is a more complicated process than changing icons. Frequently, it involves additional research, UX and UI audit, and creating new strategies.
Effective redesign requires a strategy. If you establish clear goals and develop a strategy for reaching these goals with the designs, the results will surprise you. However, remember that any time you need some help, you can apply to Axicube, a website redesign company.