Getting a new job is always exciting and stressful at the same time. In the age of digitalizing, when everything becomes easier with the help of smartphones, some companies and startups have understood that the hiring process can become automated with the help of employee onboarding apps. Moreover, three out of five (59%) employees think computerization of employee onboarding process may benefit the company. It can help by delivering onboarding training and documents for filling to a candidate's smartphone, which makes it quick and relatable, as people already use their smartphones for almost everything today. Our client wants to simplify the employee onboarding process for startups and companies with the new app. The goal is to let employers make data-driven decisions about hiring and employee onboarding and pre-boarding and to make it easier for both sides. Thus, we want to share the case study about the project with you and show how we cleared the hiring journey.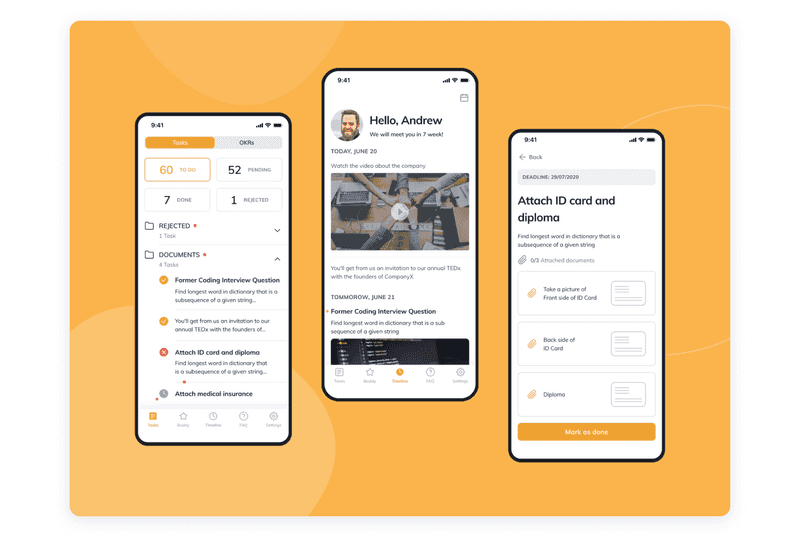 Yangol App | Design by Axicube
Project Overview
With one of our clients, we worked on developing an employee onboarding app. Yangol's idea is based on the personal experiences of its founders. This came from their corporate and startup backgrounds. The hiring process was never good enough so they wanted to change it. Our clients decided that everyone can face the same onboarding issues so they started to analyze all of that with HR managers. 
Yangol's founders knew hiring can take much time and resources so the decision was to optimize the work of the HR department by automatizing the onboarding process. Thus, an employee's journey can be pleasant and fewer people would decide to leave.
A Problem Employee Onboarding App Solves
A well-planned employee onboarding process has many benefits, such as efficient workflow, good motivation, better learning, and improved employee experience. It has a strong influence on company performance. Moreover, 51% of HR employees believe that onboarding is very important for engagement. The onboarding process also takes a significant part of human and financial resources. According to Glassdoor statistics, the average company spends around $4,000 and more than four workweeks with every new employee onboarding. Therefore more and more organizations are using employee onboarding software to automatize the process.
Some benefits will fully convince you to think over employee onboarding process digitalization:

Audience Designation
For now, we know the idea and efficiency of the employee onboarding app. But how to validate it? We interviewed various employees who had different working backgrounds. Then, we consulted with some HRs to understand the onboarding process in different companies to gather all information and suggestions for our project. 
We defined two main personas for the MVP version, just like the coin has two sides: an employee and the HR manager.
An Employee
Meet Eric! There are few challenges Eric can face coming through the onboarding process:
Misleading job description.

A not clear understanding of one's role is a common problem for new hires and can lead to leaving the company.

Lack of feedback.

Eric wants to know if their manager, the HR partners, and coworkers have a favorable impression of them. And it is also important to know if there is something to fix in their work to become a better employee.

Deficiency of communication.

This may cause problems with forming a positive relationship with the hire's manager and new coworkers and as a result, could affect the onboarding process. 

Non-answered questions.

These can be related to non-work points like where to park his car or where to go for lunch, etc. Yet, some crucial questions can come up. When to arrive? What should the employee do on his first day? All of these can make the onboarding process more difficult for the new hire.

Uncertain OKR.

OKR is needed to connect the organizational, team, and personal goals with quantitative results so that people move together in the right direction. The employee wants to know what is expected from him at work.
On the first day of work, Eric wants to feel welcomed. A new worker wants to know: where to go, where to sit, what to eat for lunch and where to get stationary. It is important to him not to be forgotten and to have someone to check how he is going and his progress.
HR Manager
And there is Monica. It is important to make a positive first impression during new employee onboarding and affirm their decision to join the company. But it is not the only one thing HR should care about:
Repeating the same actions at the same time.

The major issues consist of sending a lot of the same information to hundreds of future employees and organizing many personal plans for different people simultaneously. It can be difficult to not forget something.

Preparing everything the employee needs for work.

Monica needs to collect all needed documentation and know deadlines for their signing. One more responsibility is to help with organizing the workplace, tell where to get stationary, and maybe even help with issues concerning relocating.

Taking care of the employee's comfort level in the team and the workplace.

HR's goal is to help the new hire to feel comfortable in the new workplace, earn their liability to the company and help them start working productively.

Giving feedback and engagement to the new hire.  

Every new employee brings fresh ideas and different work backgrounds to their new roles. It is important to not dismiss or pass judgment too quickly. Giving feedback on a hire's progress is also crucial. It can help employees to integrate into the new company more effectively. 

Tracking efficiency of the onboarding process.

Is there something to improve? How good new hires are involved in team life? All these questions and more are following HR during the whole onboarding period.
User Journey
Analyzing the audience, we visualized the user journey. It helped us to get close with each component and understand on which part of the journey HRs and employees intersect. These actions give us an understanding of the aspects we should keep strong attention on and visualize all collected data.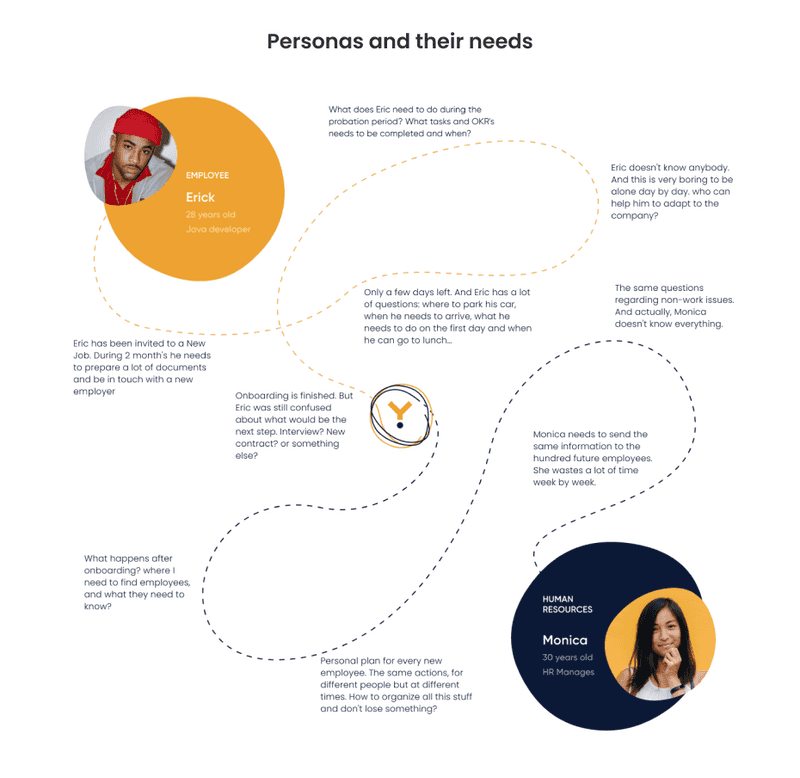 The Process of Creating Design
Working on this case, our design team had to think over all ways the brand will communicate with users and customers. Even excellent design may not work if it is created in an information vacuum without understanding its purpose. That is why the first stage is all about deep research and tons of questions to understand all the details. Together with the client, we discussed all critical points. And after audience analysis and competitor research, we were ready for the next step: UX strategy and concepts.   This helped us to define the main user stories for Yangol's MVP.
We wanted to simplify the onboarding process and make it clearer. On the other hand, we wanted to automate HR's process and give them a flexible web-based employee onboarding system for communication with newbies. One more challenge was to create a strong brand identity to attract new customers and users.
Based on these findings, our team created a complex design for Yangol.io. 
User flow
So, we had an idea. But how to systemize it with knowledge? We choose User Flow to show all the possible ways how the user can interact with Yangol App. The main goal of this action is to define optimal interaction scenarios, test them and choose the best ones. As a result, we got a clear understanding of the App structure. After that, we can take another step on this project.
Wireframes
By starting this step, we already had a bird-eye view of the project. Therefore, our team got the basis for creating wireframes. Low-Fidelity prototyping is the easiest way for quick validation of hypotheses. At this stage, our task was to make a prototype and test it and give the overall view of the project to developers. We made wireframes in a few iterations and checked them with our potential users. When the client approved low-fi prototypes, we proceeded to the creation of High Fidelity ones. After all testings, we made some improvements and began working on the UI.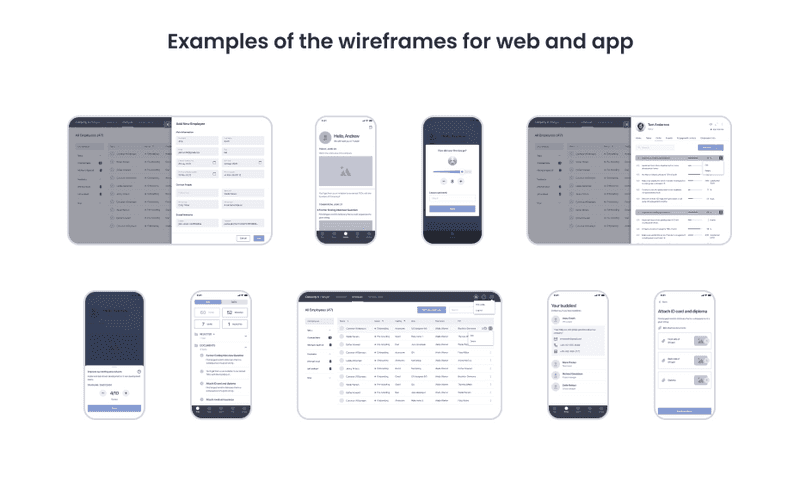 User Interface
We wanted our design to look clear and nice so it won't irritate the eye and make the navigation process as easy as it can be. Moreover, it is important to make this design suitable for future Yangol client's ecosystems. It should be restrained and customizable for other brand's colors.
Colors
We paid engrossed attention to the color scheme. We wanted it to be outstanding. We've chosen orange color which is associated with happiness, sunlight, and warmth. Yellow is considered to be the easiest color to see. Users can feel confidence when seeing yellow colors in the design. Then we've chosen the white color which means purity, innocence, and clarity. White can also be associated with a clean sheet of paper, which can motivate users to generate new ideas. 
Typography
Selecting a good font is crucial for designers to create a good UI. A typeface for an app helps to define the macro visual style of design and has a direct impact on user experience. We've chosen this font because it looks neutral so every user will like it. Mulish typeface emphasizes the clearness of the design.
Icons
Icons are important in providing a successful flow of user-computer interaction. One of the main benefits of icons is the ability to replace text. Icons should be understandable and intuitive. Thus, we had to create a clean and neutral set of icons that will suit every element of the design.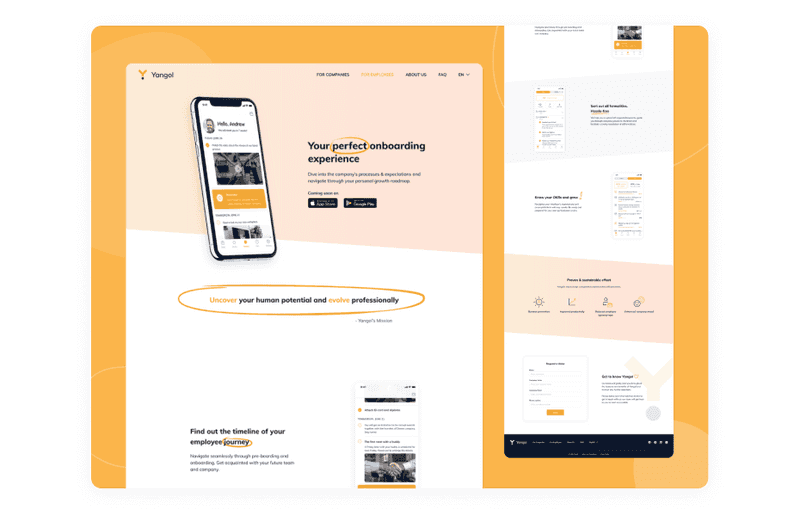 Brading
A great product is nothing without a go-to-market strategy and public visibility. To tell potential clients about Yangol, we had to finish work on the landing page and branding. The landing page should show how this brand can help businesses to optimize processes and shorten spending financial resources. Branding is about the values the company stands for. This includes logo design, color palettes, and the way this company is deployed. Yet, it is the voice of the company - how it communicates with clients, and the tone they use. 
Landing Page
The main task in creating a landing page was to present all the features that exist in the app so a potential client can get familiar with the tools we offer:
Manage of Employees.

Employee onboarding system collects all newbies in one place. You can track their feelings, update information and work with them individually - everything is available in the Admin Panel.

Design onboarding journey for employee.

Design pre-and onboarding journey of your candidates. Whether remote or onsite, a web-based onboarding system will help to bring all your onboarding processes into one simple app. You can make changes and check what will see your candidates in one second.

Insightful analysis.

You can collect data for data-driven decisions. Track KPIs of your pre-and onboarding processes to instantly react to any changes and constantly improve your employee brand.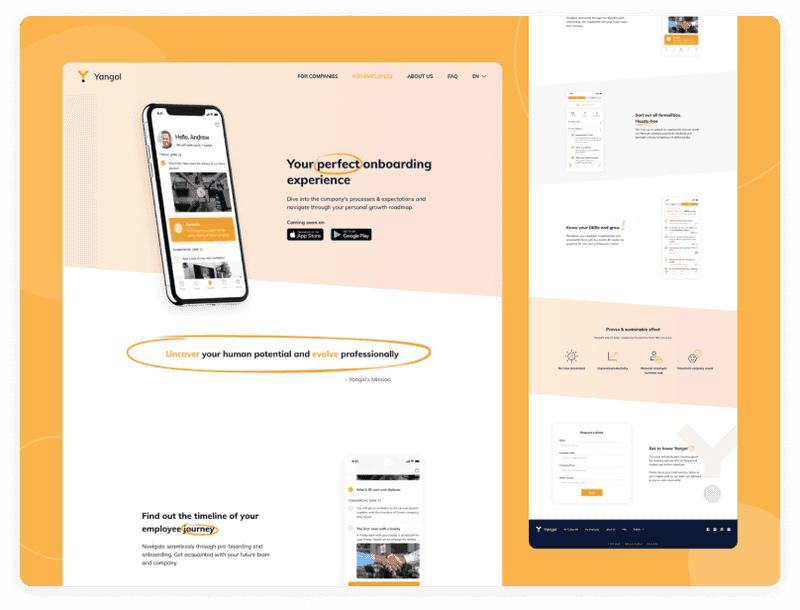 Yangol Landing Page | Design by Axicube
Logo Design
We've already chosen the color scheme and there comes work on logo design. The logo is the first point of contact between the company and the outside world. It should be memorable and clear. We decided to show the union of two lines. These are the upper lines of the letter "Y" and the lower one. This way we wanted to show the unity of the company and employees. Then, we added a point as a symbol of the deal.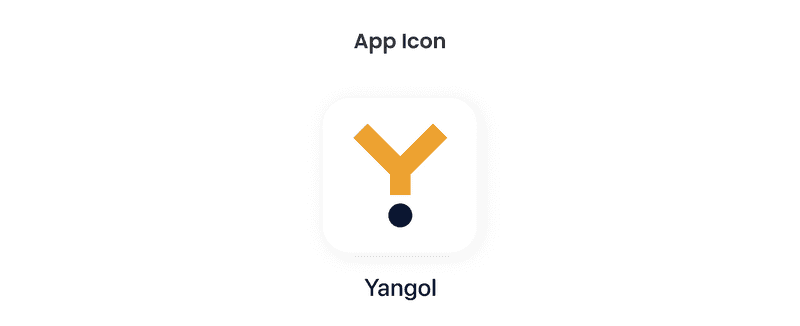 Challenges We Faced
The main issue we had is that there are not many products like this so we had to create something from scratch. We had to understand where is an interaction between HR and Employee in the app. 
Option for creating a content.

It is a common thing that HRs have to make many events and meetings with different people. But how to make it as easy as possible? Firstly, we've made something like Google Calendar. After a few users interview, we decided to remake this feature to make it even simpler. We've totally changed the user scenario and deleted everything that is needless. There is one action on the one screen so you will never get confused. You can add a cover of the meeting, guests, topic, time, and anything else that is needed.

Library.

The HR can create some general events for all employees or for one of them beforehand.

Content Preview.

HRs can create content and see how it will look on an employee's phone screens. So they can understand how the information will look like and they don't need to worry about it.

Branding & Customization.

Not all products think about this aspect. It is a SaaS product that offers a solution for companies and businesses. Then, the company will offer it to its employees. We decided to think about customization so HR can choose the color and style which suits the company he/she works at.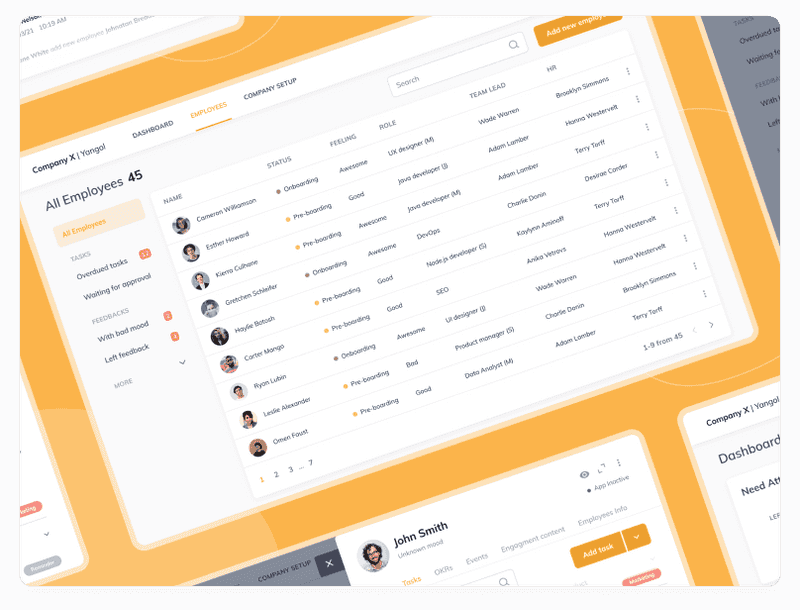 Yangol Admin Panel | Design by Axicube
The Result: Created Employee Onboarding Software
In this case study, we described how we helped our client to create a tool that can help in the automatization of the onboarding process. It allows the company to provide a high-quality and smooth onboarding experience, retain hires and save financial resources. Creating a custom employee onboarding software has been an interesting experience for us. We like to watch the growth of the product.
Axicube is happy to get positive feedback from our client Pylyp S., co-founder of Yangol: "We hired Valentyn and his team to develop UX design for our product from scratch. He proved to be a reliable partner, very professional, and helpful. We even extended our initial scope onto other services. Highly recommended!"

Conclusion
First impressions are everything. How you welcome new employees will have a strong impact on whether they stay or go looking for another company. The right set of onboarding tools will totally improve your employee experience. 
If you think that a web-based employee onboarding system would help your business, we at Axicube are ready to help you with this! We have deep expertise in working with different types of businesses, so we will find the best fitting solution for you. We try our best and use Best Practices in our work. Contact us any time if you are ready to level up your product!