For decades, outsource website design services have been underestimated. You may have heard about some adverse experiences. Now, the situation is different.
As time changes, this kind of remote collaboration has become the new normal in digital technologies. Specifically, in the shattering times, to say 2020. Today, outsourcing companies have come in handy due to their low prices and effectiveness. These factors helped many companies stay afloat and avoid going bankrupt. Moreover, a good outsourcing team can not only help you save costs but also boost your profits.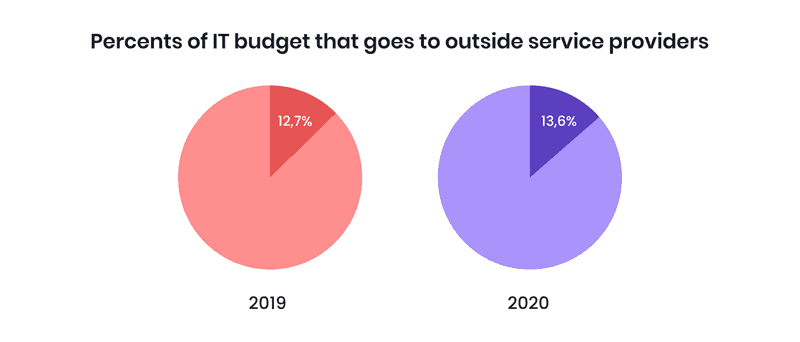 IT Outsourcing Statistics 2020/2021 report states that "the overall percentage of the typical IT budget going to outside service providers has risen significantly, to the highest rate in more than 10 years. A median outsourcing accounts for 13.6% of the total IT budget on average this year, a healthy increase from the 12.7% figure from 2019." Many IT organizations are delegating multiple internal operations to outsource. The alternative - relying on in-house specialists who can meet their service goals - is often more expensive.
Outsourcing website design and development are among the top jobs for an outsourcing team. In this overview, you'll find
benefits and shortcomings of remote services
lifehacks on how to make out the most of this collaboration
recommendations on how to make outsourcing design services worth their time and efforts.
Product companies, startups, development teams without an in-house designer, and large companies focused on boosting their product will reveal the unknown side of external operations.
Benefits of Outsource Website Design
The next top 3 reasons shed light on the companies' choice of mobile app and web design outsource.
It reduces your costs
It goes without saying that cost-efficiency is often one of the prime factors that matter for businesses of all scales. "What drives the clients' decisions is cost reduction. If there is no positive cost case, it will not happen. It is always about cost," states Partner, Law firm, EMEA.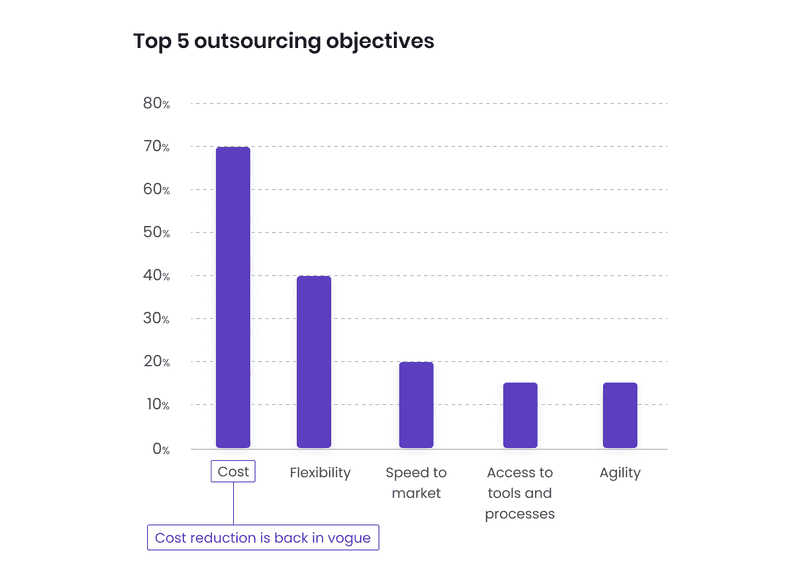 Source: Deloitte Global Outsourcing Survey 2020
According to Deloitte Global Outsourcing Survey 2020, 70% of respondents indicate that hiring an outsourcing design company allows for significantly reducing expenses and reallocating budgets. It matters even more at a time of economic uncertainty like the one we see during the pandemic outbreak. 
You get user-oriented design 
Regardless of the field of expertise, either a start-up or a small company needs a mobile and web design with an optimized user interface. It is equally essential for any business to build a website that stands out. Why? The competition is stiff, and the user's expectations are high, indeed. 
For instance, 88% of customers are less likely to return after a bad user experience. For both offline and online businesses, poor website design results in an income decrease. Thus, it would help if you understood the user's experience that meets customers' needs. With a proper web and mobile design focused on brand values and goals, businesses get a clue on how to interact with their audience even more effectively and thus boost conversions. 
Professionals do your job
Your business isn't necessarily specialized in design or UI/UX. Meanwhile, professionals working in website design outsource have experience building a concept, implementing it, and assessing outcomes. 
They are well aware of tendencies and effective models popular in the market. So you as a business owner can count on their skills. Moreover, an outsourced team mainly encompasses business analysts, UX researchers, project managers and graphic designers to offer the full-packaged services. So, you don't have to work with each specialist separately. On the contrary, with the outsource team, you obtain a complex integration of the design solutions into your business. They can monitor the process and suggest options to match your goals. Why outsource design?
How to outsource web design effectively
Yet, don't leap ahead, leaving behind the preparation stage. First, let's dig deeper and figure out compelling points you should keep in the spotlight to hire the right designers and developers. 
With this step-by-step guide, you won't miss a thing: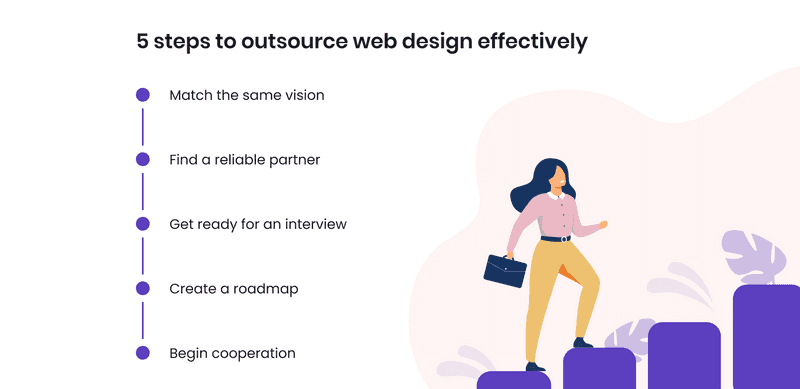 Match the same vision
When hiring an outsourced team, figure out their philosophy and primary goals. Not only their sense of style but the final concept of the project, as well as the ways of its implementation, should coincide with yours.
Find a reliable partner
Make sure an outsource web design company you've chosen is trustworthy and competent. For starters, it will not violate and share your private data with the third person. Look at the market. The best ones deliver a product that works off without a hitch. 
Get ready for an interview 
Compile a list of questions to figure out more about a team's experience in this field. What should you ask? Find out about successful projects, some feasible pitfalls in the workflow used tools and approaches, and many other points. 
Create a roadmap
Set up guidelines, decide on the milestones, indicate processes, and performance measurement. Get down to the nitty-gritty and share your expectations on the final result. 
Begin cooperation
As soon as you and the outsourced specialists agree, their team starts implementing your project's vision. 
Possible hurdles on your way
You have to realize that the process of website creation doesn't always run like clockwork. What challenges may you face? 
Misunderstanding of the working process
First and foremost, miscommunication may ruin your plans. Michael Page, one of the world-leading professional recruitment consultancies, emphasizes the crucial role of explicit and tailored dialogue between a customer and a vendor. It is crucial when working remotely. It implies sufficient knowledge of provided components and services. Moreover, it would be best if you kept in mind cultural differences and differences in time zones or languages. 
The fate of your brand
The fair argument when opting for outsource website design services is your business reputation at stake. You rely on developers' and designers' vision and skills. Usually, they know nothing about your company, regardless of whether it goes about start-ups or even old brick-and-mortar businesses that intends to move online. 
You should give as much information about your company as possible. For instance, provide your logo, brand colors, motto, mission, goals, and target audience. With this approach, the team is more likely to get your vision better and create an easy-to-navigate design for your clients. And thus, they will meet your expectations and develop the desired website.
Design brief
In fact, half of the accomplished workflow depends on your representation of the end concept. Compile a design brief together with an outsourced team, share your ideas, and accompany them with references. Hence, both sides will better grasp the ultimate goal and agree on the approaches at once. 
What should you consider before outsourcing the app development, graphic design, or research?
Outsource app design solutions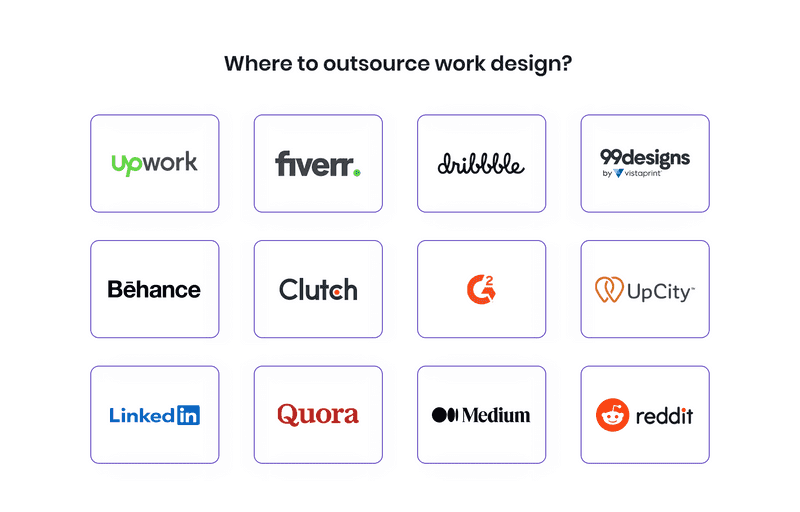 If you need a web or mobile app development and design, it's always better to hire a company, i.e, an experienced team, instead of looking for individual specialists. Where to outsource work design? You can find a freelancer on platforms like Upwork, Fiverr, Dribbble, 99designs, Behance, or check out companies' ratings and reviews on Clutch, G2, and UpCity. What is more, you can find app designers' profiles and outsource app design companies' accounts on LinkedIn while on Quora, Medium, and Reddit, they not only promote their services but share helpful bits of information.
When outsourcing tasks to a single specialist, you'll have to spend more time on seeking out every new professional. It may get your project stuck. Yet, if you have in-house developers, then freelance designers will help you create eye-catching visuals for your product.
Hiring a dedicated outsourcing company, you get a full team of specialists:
UX researcher
Project manager
Product owner
Experience designer
Visual designer. 
The pool of experts makes it possible to overcome challenges and react on the spot. It's a beneficial option when building an app from scratch. Whatever your choice, consider all issues and focus on companies with reasonable rates and credible reviews. 
How much does it cost to outsource web design? It depends on the level of their proficiency and the complexity of the project. So, the rating starts ranging from $30 per hour and above. Before hiring an app designer, you can always check up reviews on the side platforms like G2, Clutch, and others.
Outsource graphics design options
If you need just a graphic design service, decide on your budget and whether you want to work with a company or a freelancer. You can also find them following Clutch, Upwork, Dribbble, 99designs, Behance, respectively. Keeping in mind all the points mentioned above will surely assist in a smooth outsourcing experience. 
A start-up company may divide development and design into several stages and hire experts one-by-one. It will take more time but may help in projecting your budget. An outsourcing company is a win-win solution for businesses that jump into the digital world and need a holistic approach to the web design outsourcing process and performance. If you lack a designer, you can always hire a professional team to reinforce your business growth and expertise. 
Companies that outsource research and development and design jobs
For starting up or scaling your business, an exquisite design matters a lot. Look through outsourcing services to find a professional who can bring your ideas to life. 
Let's have a look at the approach of one of the top design outsourcing companies according to the Clutch review - the Slide UX. Working with such companies as Sysco, Atlassian, Harvard, AT&T, their dedicated to UX research and design team helps businesses to upgrade their websites based on the two-fold practical approach. Firstly, they analyze a current website, provided recommendations, and best practices. Secondly, they conduct internal and user interviews to redesign the website. Such a complex analysis allows for detecting shortcomings and suggests new brand design solutions. 
If you intend to cut costs and become more profitable in the long run, this option fits perfectly. You can produce a competitive product by using customized information searched for your business inquires. This kind of service enables companies of all scales to mitigate risks and make data-driven decisions aimed at effective business development.  
How to find a web design outsource company 
Overall, outsourcing is the new black in the digital world. What are the most popular platforms? Here's our top 3 list:
Dribbble allows you to get inspiration and connect with designers from all over the world.  
99designs is a global platform for creative design services. 
Behance showcases designers' portfolios for your inspiration and future outsource design work.
These platforms provide ample opportunities for streamlining business processes for either a start-up or a large company. Don't focus on the pitfalls. On the contrary, you can even use them to improve cooperation and workflow.  
Understanding that an in-house team is a costly option for many businesses is a reason to opt for affordable mobile app, and web design outsource.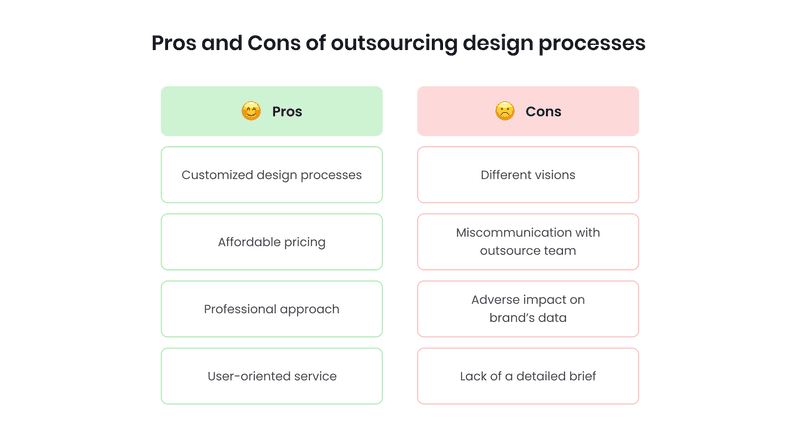 At this point, Axicube is a team of experts that specializes in outsourcing your web design business and offers comprehensive, top-notch services. Our high-skilled designers provide a full cycle of design services - from UX research and the preparation of project documents to absolute support throughout the development. Experienced in building design processes, we know how to create websites that stand out.
We believe subtle design is data-driven. It aims not only to improve business performance but also to level up the quality of services. With empathy at the heart of our principles, aka deep understanding of users' and businesses' needs, we provide a high-quality product and guarantee the best customer service.